What does the energy gauge on my LED do?
Last Update date : 2014.04.29
What does the energy gauge on my LED do?<!__ file 영역 __>
<!__ 이부분은 아래 소스코드로 바꿔서 사용하시기 바랍니다. __><!__ <iframe src="" frameborder="0"></iframe> __>
<!__ content 영역 __>
The Energy gauge is an indicator of how power efficient the TV is with the current settings. The higher certain settings are, such as brightness or sound, the more power the LED TV will use.
If the TV starts using too much power then the below Icon will indicate that the LED TV is approaching the power usage of a conventional TV.
Below is a picture of the energy gauge.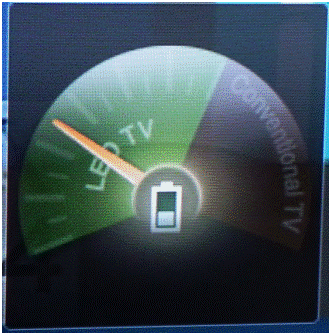 Contents Satisfaction Survey
Q1. Is this content helpful?
Q2. How satisfied were you with this content?
Q3. Tell us what you think. What could we have done to answer your question better?
Samsung has launched Carry-in Online Appointment Service to save your time on making appointments for repair, maintenance and firmware upgrade! Experience Now!