1. On the idle screen, select Applications.
2. Select Settings.
3. Select Wireless and networks.
4. Select Mobile networks.
5. Select Use packet data.
6. Select OK.

NOTE:
Additional charges may be incurred. However this will depend on the contract the end-user has with their network operator.
7. The packet data option should now be enabled.
If the end-user does not wish to use the packet data, then this box should be left un-checked (no green tick).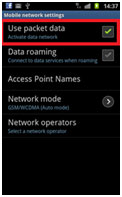 *More handy tips for your Samsung smartphones are now available on Smart Simulator.
For more details, please click here.

Contents Satisfaction Survey
Q1. Is this content helpful?
Q2. How satisfied were you with this content?
Q3. Tell us what you think. What could we have done to answer your question better?
Samsung has launched Carry-in Online Appointment Service to save your time on making appointments for repair, maintenance and firmware upgrade! Experience Now!