Why is there no LCD display when I push the power on button?
Last Update date : 2014.09.12

When you pushed power-on button, but DSC is not operated – no LCD display

1. Please check battery terminal whether an alien substance buried
⊙ If you find an alien substance - remove it and clean it
2. Please check battery direction, you need to equip a battery according to an electrode.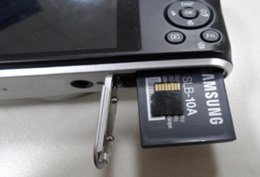 3. Please check battery power level (You need to charge if battery discharged)
Status Lamp

* Red light on : Charging

* Green light on : Fully charged

* Red light blinking : Charging Error
4. If you cannot solve your issue, please visit the Samsung service center with your camera and battery, charger,
USB cable, Adapter.
Contents Satisfaction Survey
Q1. Is this content helpful?
Q2. How satisfied were you with this content?
Q3. Tell us what you think. What could we have done to answer your question better?
Samsung has launched Carry-in Online Appointment Service to save your time on making appointments for repair, maintenance and firmware upgrade! Experience Now!