Sound Setting Menu in Smart 3D TV
Last Update date : 2014.12.29

Your Smart 3D TV's menu for sound settings will look like this: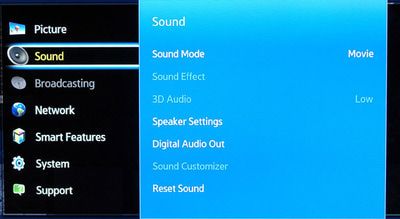 The following options are available under Sound settings menu:
● Sound Mode: A selection of pre-set sound settings. Standard, Music, Movie, Clear Voice (emphasises vocals and dialog), Amplify (emphasises high frequency sounds), Stadium (best for Sports).
● Sound Effect: Virtual Surround, Dialog Clarity, Equalizer.

● 3D Audio: Adds a more immersive soundfield when watching 3D content - only accessible when viewing content in 3D.

● Speaker Settings: Selects between internal speakers, external audio system, or both.

● Digital Audio Output: Audio Format, Audio Delay (lip synch).

● Sound Customiser: Provides and audio setup system using test tones.

● Reset Sound: Returns sound settings to factory defaults.
Contents Satisfaction Survey
Q1. Is this content helpful?
Q2. How satisfied were you with this content?
Q3. Tell us what you think. What could we have done to answer your question better?
Samsung has launched Carry-in Online Appointment Service to save your time on making appointments for repair, maintenance and firmware upgrade! Experience Now!