What Is The PC/AV Mode Option Of My Monitor?
Last Update date : 2015.01.30
PV/AC Mode
The PV/AC Mode is an option in the monitor that can be changed to improve the viewing experience based on what you are watching.
To change the PV/AC Mode:
1. Go to Setup & Reset.
2. Select PC/AV Mode.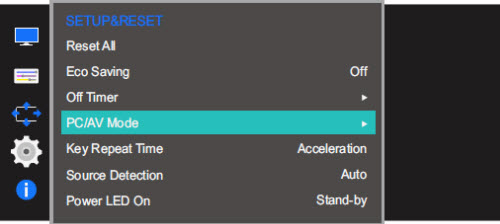 3. Move to HDMI 1 or HDMI 2, and select one of the following:
• PC: This mode is most suitable for a PC.
• AV: This mode enlarges the image size displayed on the product and is suitable when viewing movies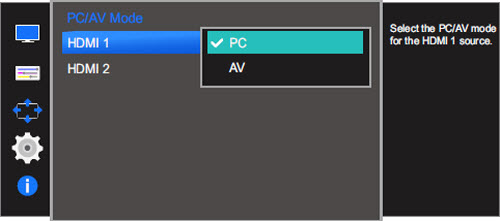 <!__ end footer __>
Contents Satisfaction Survey
Q1. Is this content helpful?
Q2. How satisfied were you with this content?
Q3. Tell us what you think. What could we have done to answer your question better?
Samsung has launched Carry-in Online Appointment Service to save your time on making appointments for repair, maintenance and firmware upgrade! Experience Now!