How do I use hand gestures to control my Samsung Smart TV?
Last Update date : 2015.09.02

<!__ content 영역 __>
1. Confirm that the gesture controls are enabled in the TV and that the camera is set for your viewing area.


2. Raise your hand and hold it up for about two seconds.
3. Wave at the TV.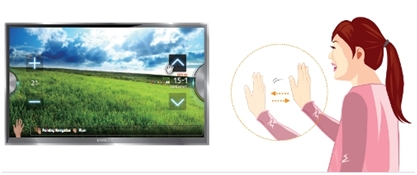 4. If gesture controls have been activated a pointer will appear on the TV and a gesture control command bar will appear at the bottom of the TV, displaying the available commands.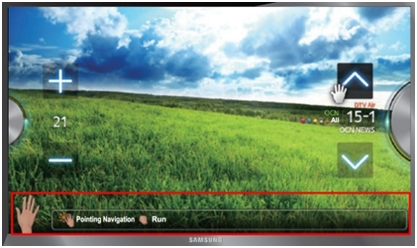 5. Use your hand to guide the pointer around the TV.

6. With the pointer hovering over the object you would like to select, close your hand to select it.



NOTE: by holding your hand closed you can "run" the volume or channel commands on the TV (this is the same as holding down the volume or channel button).
Contents Satisfaction Survey
Q1. Is this content helpful?
Q2. How satisfied were you with this content?
Q3. Tell us what you think. What could we have done to answer your question better?
Samsung has launched Carry-in Online Appointment Service to save your time on making appointments for repair, maintenance and firmware upgrade! Experience Now!