The Galaxy Note5 supports a feature which lets you simply capture a lengthy content
- Seamlessly capture a lengthy content without scrolling
- Annotate freely on the captured image with the S Pen
How do I use this?
1.Open Air Command from the browser and click "Screen write"
2.Click "Scroll capture" to start capturing and continue by clicking "Capture more"
3.You can write on the captured image and click "save in gallery"
You can seamlessly capture a lengthy article/IM/document and save it as a single image file.
Expanded screen capture supports up to 22 browser pages. The resolution of the content varies based on the number of pages captured.
- 1 page : Quad HD, 2~10 pages : FHD, 11~22 pages : HD. If 8 pages are captured, the resolution of the merged image is FHD.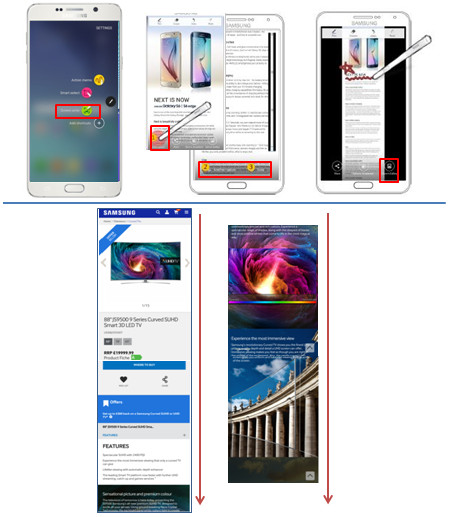 *More handy tips for your Samsung smartphones are now available on Smart Simulator.
For more details, please click here.
Contents Satisfaction Survey
Q1. Is this content helpful?
Q2. How satisfied were you with this content?
Q3. Tell us what you think. What could we have done to answer your question better?
Samsung has launched Carry-in Online Appointment Service to save your time on making appointments for repair, maintenance and firmware upgrade! Experience Now!