Galaxy Note5: How to replace the S Pen nib
Last Update date : 2015.09.17

1. If the nib is dull, replace it with a new one. Firmly hold the nib with the tweezers and remove it.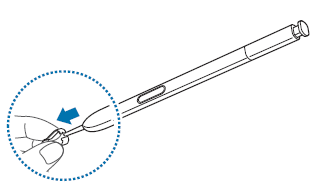 2. Insert a new nib into the S Pen.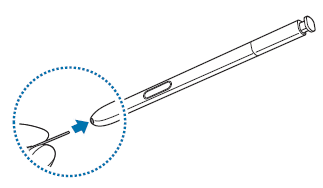 Be careful not to pinch your fingers with the tweezers.
• Do not reuse old nibs. Doing so may cause the S Pen to malfunction.
• Do not press the nib excessively when inserting the nib into the S Pen.
• Do not insert the round end of the nib into the S Pen. Doing so may cause damage to the S Pen or your device.
• If the S Pen is not working properly, take it to a Samsung Service Centre.
• If you use the S Pen at sharp angles on the screen, the device may not recognize the S Pen actions.
Do not bend or apply excessive pressure with the S Pen while using it.
• The Recents key and the Back key can be used with the S Pen.
• For more information about the S Pen, visit the Samsung website.

*More handy tips for your Samsung smartphones are now available on Smart Simulator.
For more details, please click here.

Contents Satisfaction Survey
Q1. Is this content helpful?
Q2. How satisfied were you with this content?
Q3. Tell us what you think. What could we have done to answer your question better?
Samsung has launched Carry-in Online Appointment Service to save your time on making appointments for repair, maintenance and firmware upgrade! Experience Now!