Weak or no signal in most instances indicates that the RF signal strength feeding into the internal tuner of the TV is too weak.

Please ensure the aerial cable is connected securely both to TV aerial and on the TV and wall RF point and perform a channel auto store on the TV.

If the result after rescan is unchanged, and/or you are receiving fewer digital channels than you should do or there is no digital channels, or some channels intermittently drop audio or pixelate and/or freeze, in vast majority of instances this relates poor receiving signal.

Signal performance could be checked by selecting on the remote:
Menu – Support- Self Diagnosis – Signal Information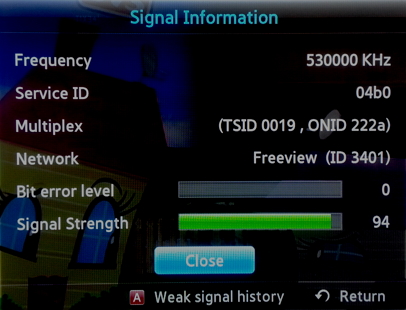 Signal strength should be at least 70%
Bit error level should be 0

Although this cannot apply to every case, we would suggest arranging for an aerial person to check the signal strength as well as quality of the received signal if issue is still there.
Contents Satisfaction Survey
Q1. Is this content helpful?
Q2. How satisfied were you with this content?
Q3. Tell us what you think. What could we have done to answer your question better?
Samsung has launched Carry-in Online Appointment Service to save your time on making appointments for repair, maintenance and firmware upgrade! Experience Now!