.

Smart switch is a simple solution for managing data of Samsung Smart Phones.
There are two versions of Smart Switch.
PC Tool: The PC tool supports data backup/restore, synchronization with PC, firmware upgrade and the data transferring from, for example, an "iTunes" device* to Samsung Smart Phone.
*You can transfer data to a Samsung android device using a previously stored backup file on your PC that has been made from the iOS device.
Mobile app: The mobile application supports the transfer of data from a Samsung or non Samsung device to a Samsung android device (and data backup using SD Card.)
• Note. In this guide we will look at "Smart Switch Mobile". For further information regarding "Smart Switch PC", please read "Smart Switch PC Customer Consultant Guide Vx.x"
※The merits of "Smart Switch Mobile"
1) No "PC required" → Wi-Fi direct or OTG Cable connection are used to transfer data
2) Supports backup/restore
PC Tool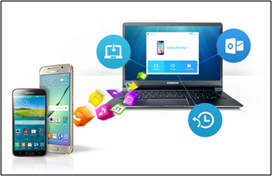 Using backup data of PC
Mobile app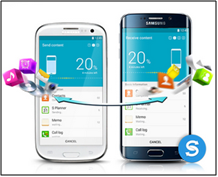 1. Using high frequency audio to establish initial connection and then data transfer via Wi-Fi Direct or
2. OTG Cable connection
*For more information about the SMART Switch, please go to the page Samsung SMART Switch.
*More handy tips for the service are now available on Smart Simulator.
For more details, please click here.
Samsung has launched Carry-in Online Appointment Service to save your time on making appointments for repair, maintenance and firmware upgrade! Experience Now!