The Gear S2 has a beautifully designed "Circular user interface"
Analog-inspired, circular interface for easier navigation between screens
1) Bezel control provides unimpeded view of the screen
2) Physical feedback enables quick and precise navigation
Using the bezel is:
Non obstructive: Interaction without obstructing the screen
Quick: Easy and fast access to apps and widget
Precise: Simple rotation controls replace repetitive touch inputs
- Easy and Fast access to applications/Widgets
Just 1 Rotation is needed to access your widgets
Convenient to use by for both left-handed and right-handed users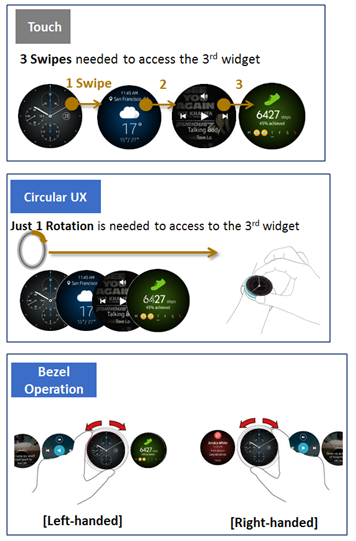 Back Key
- Press: Return to previous screen
- Double-click: None
- Press and hold: None
Home Key
- Press: Open the Apps screen when you are on the Watch screen. Or, open the Watch screen when you are on any other screen
- Double-click: Default none (Customizable to load Favorite App by User)
- Triple press: Default none (Can set for Safety Assistance)
- Press and hold: Gear Options (To turn the Gear on or off)
Press and hold for more than 7 seconds to restart
*More handy tips for your Samsung Gear S2 are now available on Smart Simulator.
For more details, please click here.
Samsung has launched Carry-in Online Appointment Service to save your time on making appointments for repair, maintenance and firmware upgrade! Experience Now!