Android 6.0 Marshmallow introduced a new permissions model with the addition of runtime permissions.
Until Android 5.x Lollipop, you had to accept all permissions (such as accessing camera, data network…) which an application asks for during the application installation procedure.
But from Android 6.0 Marshmallow, the pop-up for each permission appears when the application request to access that permission for the first time.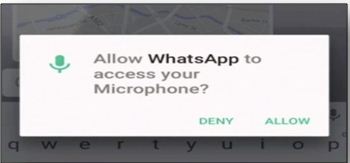 2. Can I accept or deny each permission of the application?
From Android 6.0 Marshmallow, the option to allow or deny each permission of the application refers to below
1) Settings Apps: Settings > Applications > Application manager
2) Select the application which you want to change permissions
3) Tap "Permissions"
4) Changes the permissions which you want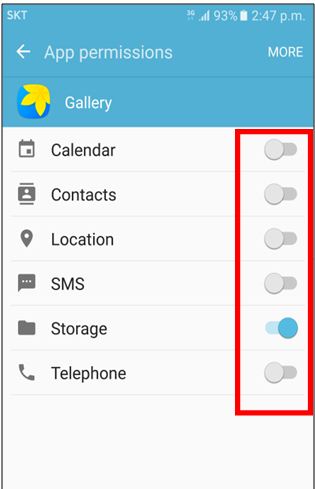 ※ Comparing the permission managing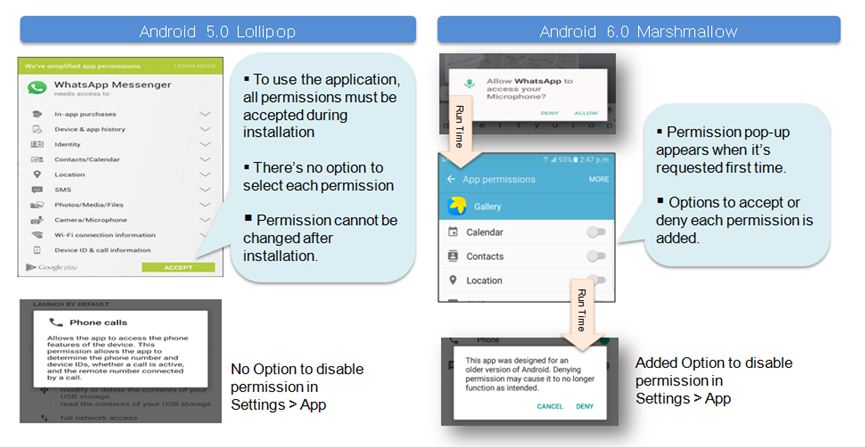 Screen Images are for reference only.

Contents Satisfaction Survey
Q1. Is this content helpful?
Q2. How satisfied were you with this content?
Q3. Tell us what you think. What could we have done to answer your question better?
Samsung has launched Carry-in Online Appointment Service to save your time on making appointments for repair, maintenance and firmware upgrade! Experience Now!