l Please note that the answer below is a reference for customers, which may change in different software version and device models. The pictures/images are for reference only. All other products and services mentioned may belong to their respective trademark owners.
Q: How do I take photos with Samsung Gear 360?
Method1- Use the mobile device
1. After launching the Samsung Gear 360 app on your mobile device, tap the camera viewfinder icon.
2. The viewfinder will appear. Tap Mode
3. Tap Photo
4. Tap Camera icon to take a photo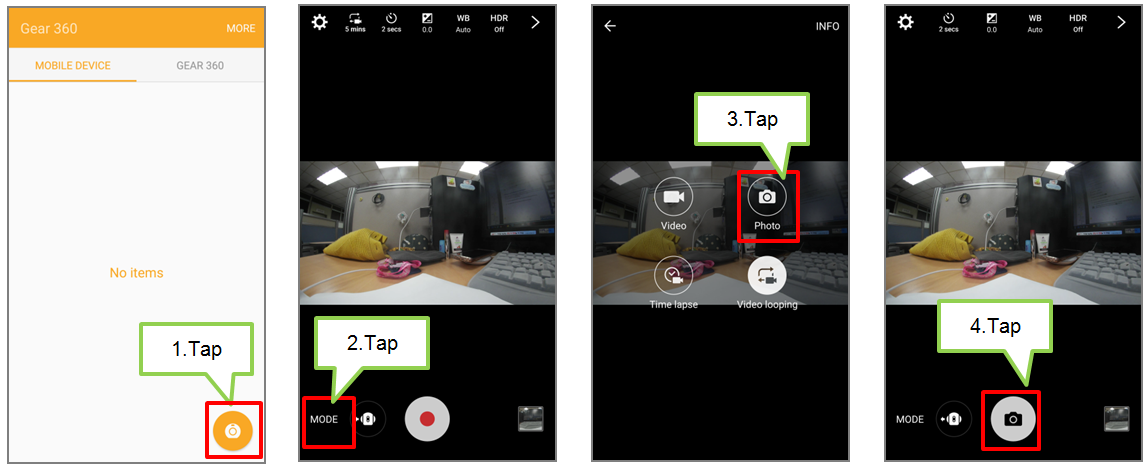 Method2- Use the Samsung Gear 360
1. Press the Menu key until Photo is selected; then press the OK key to take a photo.
The maximum number of photos you can take is displayed on the camera status screen.

Note:
The total number of remaining photos may not appear to decrease after taking photos, depending on Samsung Gear 360's settings.
Screen Images are for reference only.

Contents Satisfaction Survey
Q1. Is this content helpful?
Q2. How satisfied were you with this content?
Q3. Tell us what you think. What could we have done to answer your question better?
Samsung has launched Carry-in Online Appointment Service to save your time on making appointments for repair, maintenance and firmware upgrade! Experience Now!