The Exercise feature allows you to record your exercise information, such as your steps and calories burned. Please follow the steps below to use the feature.
1. On the Apps screen of your Gear Fit2, tap Exercise
2. Tap Activity type and select the type of exercise you want to monitor
(For some types of exercise, you can view the instructions on the screen, and tap OK)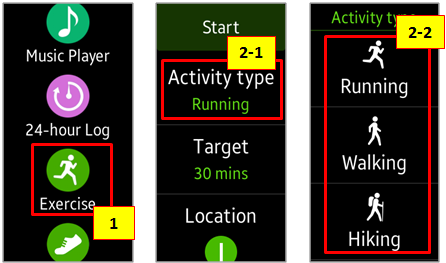 3. Tap Target and select a target type
Tap Basic workout to exercise without a target
4. Tap

or

to set the target, and tap

5. Depending on the type of exercise you choose, you can tap Location, Intensity, or Guide at intervals and select an option.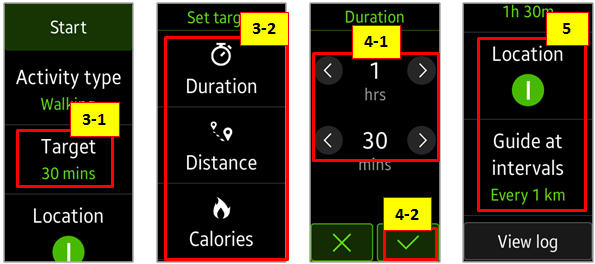 6. Tap Start to start exercising
7. You can view the exercise information, such as calories burned and current speed, when you swipe the screen to the left or right.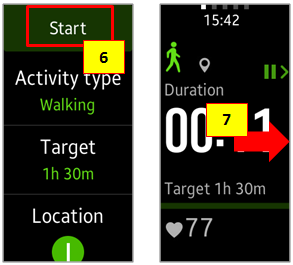 8. To finish exercising, press the Back key and tap Finish (To resume exercising, please press the Back key again).
9. To view your exercise information, please swipe upwards or downwards on the screen after finishing the exercise.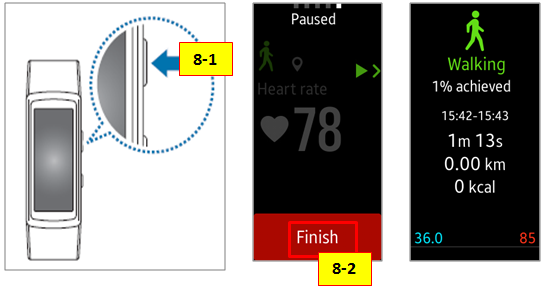 ※ In cold weather, please be aware of the following conditions before exercising:
• Avoid using the device in cold weather. If possible, use it indoors.
• If you use the device outdoors in cold weather, please cover the Gear with your sleeves.
• If you have just purchased the Gear or have reset it, then you should create your profile.
Screen Images are for reference only.

Samsung has launched Carry-in Online Appointment Service to save your time on making appointments for repair, maintenance and firmware upgrade! Experience Now!