Set the main earbud to use the call feature and to record exercise information.
The right earbud is preset as the main earbud.
Change Main Earbud
To change the main earbud, please follow the steps below.
1. On the Apps screen of the mobile device, tap Samsung Gear
2. Tap Settings
3. Tap Select main earbud
4. Then select the earbud to use as the main earbud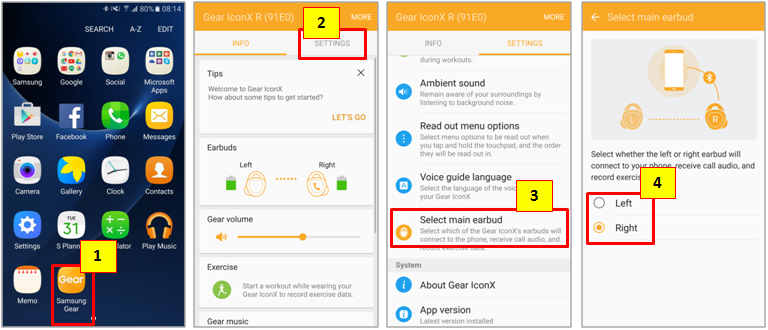 Note:
After changing the main earbud, the earbuds may not automatically reconnect to your mobile device.
If this happens, please manually connect the earbuds to the device.
Screen Images are for reference only. Google+, Google, the Google logo, Google Search, Google Maps, Gmail, YouTube, Android, Google Play and Messenger are the trademarks of Google Inc. All other products and services mentioned may belong to their respective trademark owners.

Samsung has launched Carry-in Online Appointment Service to save your time on making appointments for repair, maintenance and firmware upgrade! Experience Now!