Secure Folder protects your private contents and apps, such as photos and notes, for being accessed by others. Safeguard your private contents and apps even when the device is unlocked. You can also use multiple accounts on a single device.
1. On the Apps screen, tap Settings
2. Tap Lock screen and security
3. Tap Secure Folder
4. To use Secure Folder, you should sign in to your Samsung account. Please tap SIGN IN
5. Enter your Samsung account information and tap SIGN IN again

6. Select a lock method for Secure Folder
If you forget how to unlock the Secure Folder, you can reset your lock using your Samsung account.
7. If setup is completed, a shortcut to the Secure Folder will appear on the Home and Apps screens.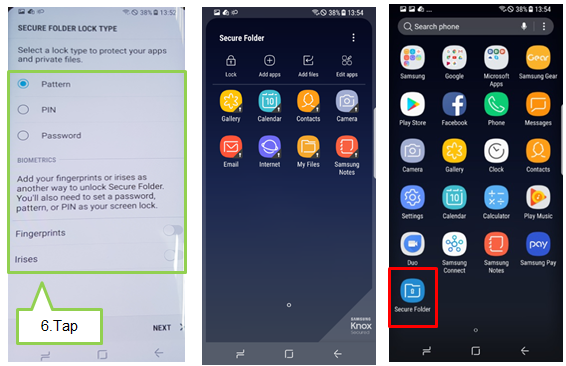 Note:
Secure Folder is a separate, secured storage area. The data and apps in the Folder cannot be transferred to other devices. Attempting to customize the operating system or modifying software will auto lock of the Folder and inaccessibility. Before saving data into the Secure Folder, please make sure that you have made backup copies of the data.
Screen Images are for reference only. Google+, Google, the Google logo, Google Search, Google Maps, Gmail, YouTube, Android, Google Play and Messenger are the trademarks of Google Inc. All other products and services mentioned may belong to their respective trademark owners.

Samsung has launched Carry-in Online Appointment Service to save your time on making appointments for repair, maintenance and firmware upgrade! Experience Now!