"Leakage of Light"?
No, your device is normal.
Due to the Galaxy Note8 window glass, in some conditions e.g. when in dark, this "the light seems to leak" phenomenon may appear.
The light can spread or reflect along Galaxy Note8's window glass when using the device in a dark place and it is not the light leaking from the device. A similar phenomenon can also be seen on the previous devices due to its similar concept where it uses a window glass.
It never affects device performance or features and all Samsung smartphones is always being controlled under high level of quality standards internally.
Light Spots on Photos
The phenomenon seen on your camera is a normal symptom called 'Camera Ghost' phenomenon.
It is a phenomenon that the light is reflected in the window glass and the light that does not actually exist is taken together in the shape of a light source.
When you take shoot of objects around bright lights, you can easily find it. Ghost symptom is a phenomenon that appears in most smartphone cameras.
To reduce light reflections, we recommend keeping away from strong light sources or avoiding them.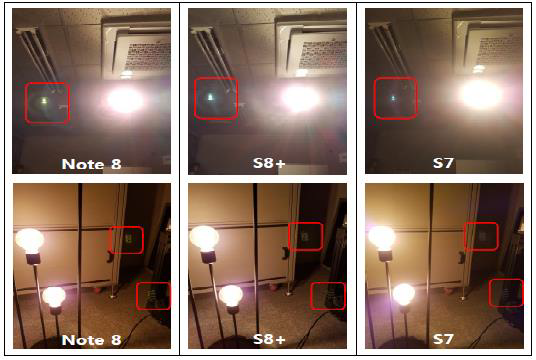 Interactive Guide of Samsung Galaxy Note8 is now available. Simply click to learn more about the unique features of Samsung mobiles.
Pictures/ Images are for reference only.

Contents Satisfaction Survey
Q1. Is this content helpful?
Q2. How satisfied were you with this content?
Q3. Tell us what you think. What could we have done to answer your question better?
Samsung has launched Carry-in Online Appointment Service to save your time on making appointments for repair, maintenance and firmware upgrade! Experience Now!