Samsung offers LCD TVs with two versions of Motion Plus:
Auto Motion Plus

LED Motion Plus
Auto Motion Plus is available on selected conventional backlight LCD TVs. LED Motion Plus is available on LED backlight LCD TVs. For a list of Samsung LCD TVs that have either Auto Motion Plus or LED Motion Plus, click HERE.
Auto Motion Plus - Faster Frames for a Clearer Picture
Using the Auto Motion Plus 120Hz processor, Auto Motion Plus increases the frame rate by intelligently calculating the 'middle' image between frame A and frame B, and then inserting it between the two, making a fluid transition from one frame to the next.
<![if !vml]>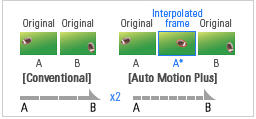 <![endif]>
For more information about Auto Motion Plus, click HERE. After you click, please have patience. The window you are bringing up takes at least 25 to 30 seconds to load fully.
LED Motion Plus - High Frequency Scanning
LED Motion Plus™ Technology progressively scans the array of LED backlights from top to bottom at very high frequencies. It auto-controls the picture, adjusting fast moving images and eliminating the blurs that are common on conventional or typical LCD TV.
Contents Satisfaction Survey
Q1. Is this content helpful?
Q2. How satisfied were you with this content?
Q3. Tell us what you think. What could we have done to answer your question better?
Samsung has launched Carry-in Online Appointment Service to save your time on making appointments for repair, maintenance and firmware upgrade! Experience Now!