Sharing your content with friends nearby should be easy, quick, and even fun. S Beam lets you bond instantly so you an transfer documents, contacts, pictures, music, videos, you name it. Just put the backs of your phones together, connect, share and enjoy.
1 In the application list, select Settings → More settings → S Beam.
2 Drag the S Beam switch to the right.
3 Launch an application that uses music, videos, images, or
documents.
4 Open or play a file.
5 Touch the back of your device to the back of the other device.
6 Tap your device's screen.
The data on your device will be sent and displayed on the
screen of the other device.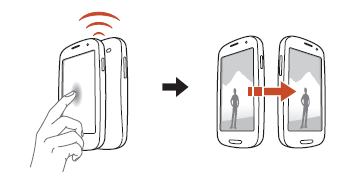 Note: If the two devices try to send data simultaneously, the
file transfer may fail.
Contents Satisfaction Survey
Q1. Is this content helpful?
Q2. How satisfied were you with this content?
Q3. Tell us what you think. What could we have done to answer your question better?
Samsung has launched Carry-in Online Appointment Service to save your time on making appointments for repair, maintenance and firmware upgrade! Experience Now!