Self Diagnostics can be done by using some simple steps & most of the times it resolves the problem too
To run the Self Diagnostics simply follow the below listed steps
a. Tap the Menu button on the remote control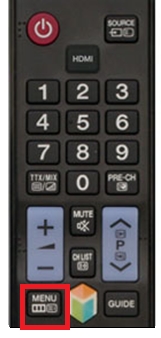 b. Then Scroll up to Support option using the arrow keys and press OK (

) button on the remote to selcet it.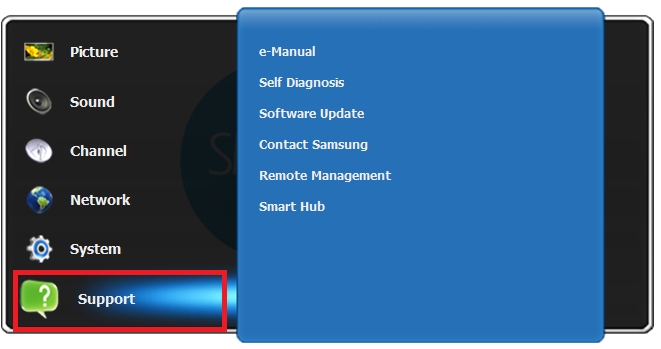 c. Then scroll up to the Self Diagnosis option using right arrow key and press OK button.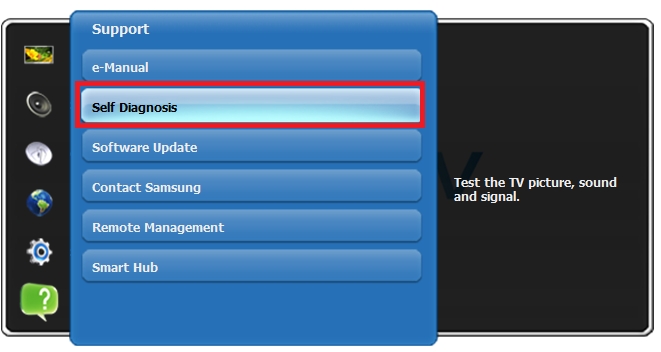 d. Once you are in the self diagnosis menu you will get the below displayed options and select the one appropriate to the problem being faced.
You can also reset the settings to the default one by selecting the Reset button
If you don't encounter any problem while the respective tests are being done, then there might be setting adjustments to be done on your TV. You can try to change the sound equalizer for sound problems or the picture settings for picture issues.
Contents Satisfaction Survey
Q1. Is this content helpful?
Q2. How satisfied were you with this content?
Q3. Tell us what you think. What could we have done to answer your question better?
Samsung has launched Carry-in Online Appointment Service to save your time on making appointments for repair, maintenance and firmware upgrade! Experience Now!