From the monitor to the page with just one touch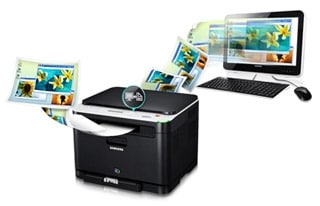 The CLP-325 's Print Screen button – conveniently located on the printer control panel – lets you print the contents from your screen, quickly and easily, even when you're away from your desk. Just one touch is all that it takes. With one click, there's no more extra editing or cropping of unwanted content-clutter from original webpages or documents. If a single page is what you want, it's what you'll get. One simple press of a button prints your screen, as it appears on your monitor. Hold the button for more than two seconds and the CLP-325 prints the last object that you activated on your monitor. Now you can print anything, anytime.
Ideal for small, stylish spaces and busy places
Measuring an ultra compact 388 x 313 x 243mm (15.3" x 12.3" x 9.6"), the Samsung CLP-325 series easily fits on any desktop leaving plenty of room for you to get your work done. It also offers the perfect blend of beauty and practicality. With rounded edges, glossy crème grey top and chic black finish everywhere else, you won't want to hide this printer under a pile of papers. And you'll really enjoy the convenient one touch print-screen button and power switch located on the front panel for fast, easy access. How's that for accommodating design?
Capture what catches your eye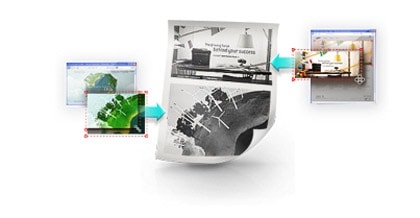 Samsung's AnyWeb Print software lets you go hunting and gathering on the Web. You can utilise the CLP-325 to easily select, drag, and drop content from different web pages onto a printable scrap board in your browser window, all while you surf the web. It's an easy way to collect, arrange, and edit useful reference points and resources you can only find on the web for big projects - or even just for fun.
Your printing experience just got a lot more colourful.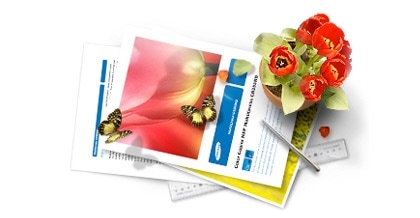 The CLP-325 easily delivers colour accuracy through premium quality 2400 x 600dpi resolution with absolute ease. Also, with toner particles that are smaller and more uniform in shape than traditional toner particles, you'll be impressed with accurate colours and beautiful, glossy printouts.
One less noisy office distraction
You shouldn't have to struggle to hear yourself think while sitting at your own desk. That's why the Samsung CLP-325 is engineered to be whisper quiet, generating a noise level of just 45dBA (Colour) and 47dBA (Mono) while it's printing. That's less than the gentle hum of a running refrigerator! A desktop printer that does its work while letting you focus on yours? Cool.
Lessen your wait, not your expectations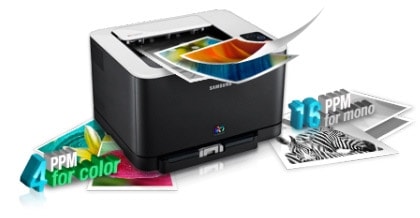 Quit losing productivity waiting around for your documents to print - the Samsung CLP-325's fast print speed (16ppm for mono, 4ppm for colour) will have you back to work in no time. In Ready Mode, the CLP-325 features a First Page Output Time (FPOT) of only 14 seconds for black and 26 seconds for colour, satisfying your need for speed. An impressive 2400 x 600dpi print resolution satisfies your demand for quality.
A soft approach to energy efficiency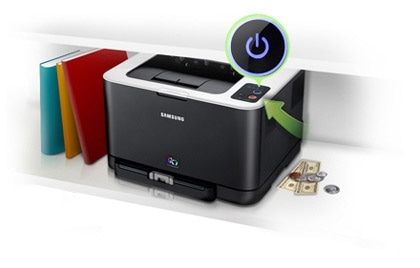 In today's green office environment, there's simply no room for energy-hogging printers. That's why the Samsung CLP-325 features an easy-to-reach power button right on the control panel, so you can switch to an energy-saving standby mode at the push of a button. Want to print? Just press the button again to power back up, and you're ready to go.