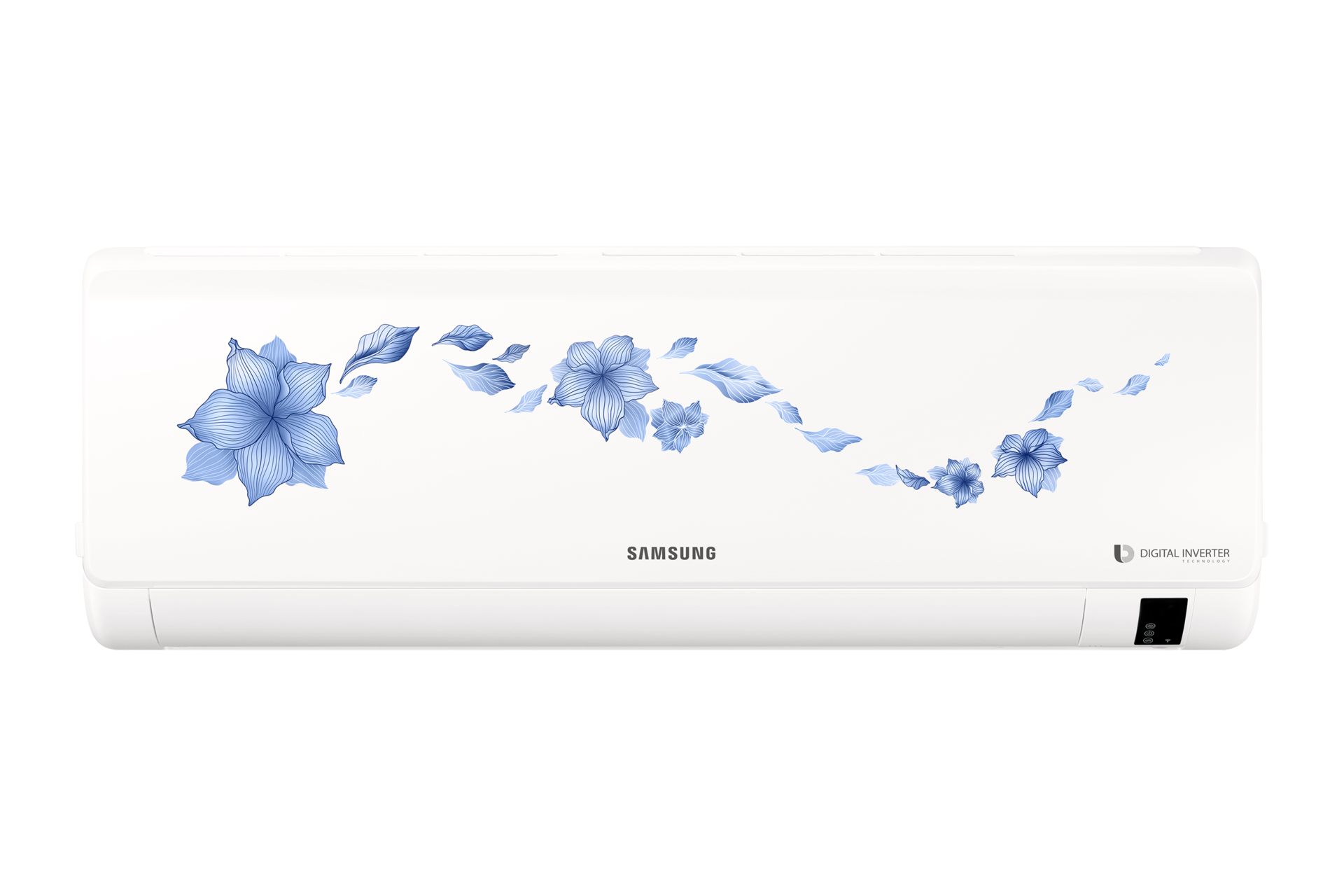 AR18MV3HETRNNA
AR18MV3HETR Inverter Split AC with World's First* 8 Pole Digital Inverter 5.0KW (1.5 TR)
World's First* 8 Pole Digital Inverter
ISSER 3 star Rated Inverter
10 Year Compressor & 5 Year condenser Warranty
* Price subject to change without prior notification
3 Star
Energy Star Rating (Cooling)
890 x 285 x 251 
Net Dimension (Indoor, WxHxD, ㎜*㎜*㎜)
Works smart, saves energy
An energy-efficient Digital Inverter 8-Pole maintains the desired temperature without frequently turning off and on. So it uses less energy* and helps you stay comfortable for long periods.
* Tested on AR09MSFHBWKNET compared with Samsung conventional model AQ09TSB.
Fast Cooling
Fast Cooling Mode cools much faster by running the compressor at the maximum level with the fastest fan speed for 30 minutes*. It's Digital Inverter 8-Pole also helps it quickly reach the maximum Hz when it starts.
* Tested on AR09MSFHBWKNET compared with Samsung conventional models.
Keeps comfortably cool
The 2-Step Cooling Mode begins cooling the air fast using its Fast Cool mode. It then automatically changes to Comfort Cool mode to maintain the desired temperature, so don't have to keep changing the settings.
Stable performance
Keeps going in the most challenging environments with Triple Protector Plus technology. It prevents overloads, without a separate voltage stabiliser*, has an anti-corrosive coating, and can endure extreme heat.
* Tested on AR09MSFHBWK compared with Samsung conventional model AR09HPSDFAP/RC.
Enjoy good night's sleep
Good Sleep mode creates the desirable climate for a good night's sleep. With its temperature control, it keeps you comfortable, so you fall asleep fast, sleep deeply, and wake up refreshed.
Stays fresh
When the air conditioner is turned off the Auto Clean function automatically runs a fan to remove dust and moisture in the heat exchanger. So it stays clean and dry, which prevents the growth of bacteria and mildew.
5 

Capacity (Cooling, kW)

3 Star

Energy Star Rating (Cooling)

890 x 285 x 251 

Net Dimension (Indoor, WxHxD, ㎜*㎜*㎜)

R410A

Refrigerant (Type)
User manual & Downloads
Live Chat
* Key feature may different from Key Spec
* Key feature may different from Key Spec. Images shown here are for representational purpose only, actual may vary. All features, specifications and prices are subject to change without prior notice. Model availability may vary from location to location. Based on internal testing of Compressor Motors of Samsung Air Conditioner and leading Air Conditioners in global market as of October 2015.