Poseidon Max2 Top Loader with Wobble Technology, 17 kg
WA19W9MDP/XAP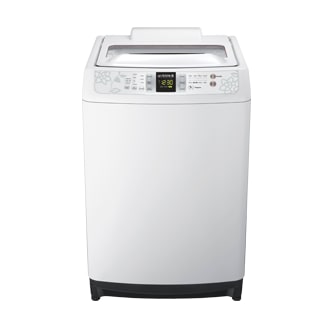 Experience Samsung's new innovative washing machine that delivers outstanding cleanliness with no tangles while saving great amount of water.
Recycling Batteries Responsibly
The European Directive on Batteries and Accumulators aims to minimise the impact of batteries on the environment and encourage the recovery of the materials they contain. In the UK, regulations on the recycling of batteries and accumulators (rechargeable batteries) were Introduced in 2009. The Waste Batteries Regulations aim to significantly increase UK collection and recycling of used portable batteries from 3% in 2007 to 25% by 2012, rising to at least 45% in 2016.

The battery symbol on a product or on its packaging indicates that the product must not be disposed of with general household waste. Instead, it is the consumer's responsibility to dispose of their waste batteries at a designated collection point so that they can be recycled. The separate collection and recycling of batteries at the time of disposal will help to conserve natural resources and ensure that they are recycled in a manner that protects human health and the environment. A comprehensive list of battery recycling centres can be obtained from: www.recycle-more.co.uk

All Samsung products that are subject to the Batteries Directive are compliant with the UK battery and accumulator Requirements. In accordance with national law, SAMSUNG Electronics (UK) Ltd is a member of an approved batteries producer compliance scheme. This scheme collects, treats and disposes of batteries on Samsung's behalf.
Poseidon Max2 Top Loader with Wobble Technology, 17 kg
Features
Experience Samsung's new innovative washing machine that delivers outstanding cleanliness with no tangles while saving great amount of water
Wobble technology
Unique structure of Wobble pulsator, Samsung's innovative technology invented, created left and right, upper and lower flow, then it caused 3D Dynamic Wash.
WATER SAVING
Samsung's Wobble Technology reduces water consumption by an incredible 30%, delivering efficient, thorough cleaning performance on a daily basis. Keep your clothes safe from wear the eco-friendly way with Samsung's new innovation of Wobble Technology.
Less Tangle, Better Care
Wobble Technology™ utilizes water control innovations to bring enhanced fabric-protecting performance. Samsung's Wobble Technology™ thoroughly cleans even delicate fabrics, eliminating tangles by 80% and preventing fabric damage caused by friction.
Ahorro Agua
Samsung's Ahorro Agua reduced waste of water by reusing last rinsed out water. After rinsing the clothes lastly, the washing machine keeps the water before final spin-dry and use it again to save water and your money!
Less Tangle, Better Care
Samsung's new Poseidon Max2 washing machine provides enhanced fabric-protecting wash performance. By multi-directive washing, Samsung washing machine reduces tangles and protects fabric.
Diamond Drum
The uniquely designed holes of drum are deeply embossed in diamond shape that creates the perfect environment for gentle but effective washing of clothes. Fabric don't catch in the cubic drum and are subsequently not damaged.
Tempered Glass
Scratch-free and long-lasting tempered glass withstands wear and tear.
Memoria
The washing machine memorizes the last cycle setting you used and recall memory with a button.
AIR TURBO DRYING SYSTEM
Powerful, dual air intake rapidly rotates the tub and significantly reduces drying time.
tech specs
Physical Specification
Loading Quantity

20/40/40Hft
NEWEST
MOST HELPFUL
HIGHEST RATING
LOWEST RATING