How do we activate Windows 8 on our NPC?
Last Update date :
2017.04.19
Overview
There have been updates to the Activation process in Windows 8 compared with Windows 7. The process and concepts related to Activation have been greatly simplified for this release. The main changes are listed below.
· Activation is required for all PCs – In previous Windows versions there was an OEM-only system-locked pre-installation method that prevented the need for users to activate. PCs shipped pre-activated from the factory. In Windows 8 all Windows installations require activation.
· No time-based grace periods –Windows attempts to activate online as soon as setup is complete. There is no grace period or delay during which activation is not attempted.
· Simplified Customer Experience – Windows 8 Activation does not prompt the user to activate, or provide options to delay activation. The design in Windows 8 is focused on keeping details of Activation from distracting from Windows usage. Most customers will not see any prompts or messages related to Activation.
· Self-Healing – Another improvement to Activation in Windows 8 is the ability for the licensing components to be repaired automatically.
· Add Features to Windows – This is the new method for upgrading your Windows edition. It is similar to the Windows Anytime Upgrade method in Windows 7.
Activation Status
To view Activation status in Windows 8, start in System Properties, just as with previous Windows versions. This is shown below. Note the lack of a Genuine Windows logo despite the activated status.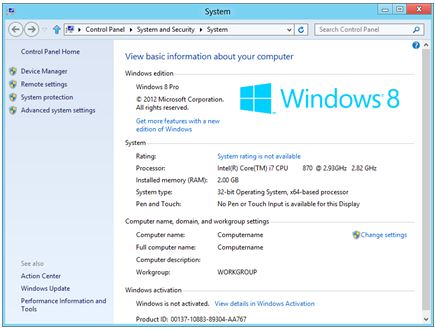 Figure 1: System Properties
Click the View details in Windows Activation link to see more information. This opens the new Windows Activation interface in Control Panel. This is shown below.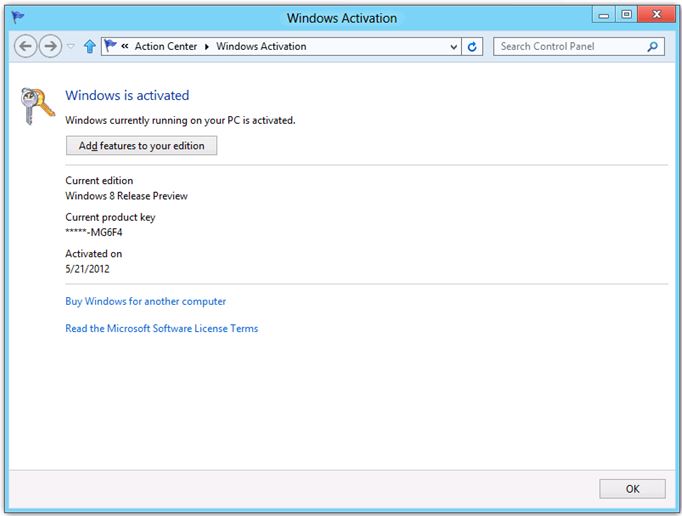 Figure 2: Activated
As you can see above, this view shows these details and options:
· Activation state – In this example Windows is activated.
· Edition
· Last 5 characters of the Product Key
· Activation date
· Option to Buy Windows for another PC
· Link to view License Terms
This same interface is your go-to location to take action when Windows is not activated.
Activating Windows
Windows is activated online automatically. When Windows cannot activate for some reason, you will see an Activate Windows page in the PC Settings interface. An example is shown below.

Activate by Phone
When Windows is not activated, but has a key entered that may be valid for activation, an Activate by phone button is shown in the Windows Activation interface.
As with previous Windows releases, you can also run the command "slui 4" to open this interface when the phone activation button is not shown in the interface.

Contents Satisfaction Survey