Galaxy S7 Flat/Edge - When entering a formula using (%) on calculator, result value appears differently compared to previous devices. Why is this?
Last Update date :
2017.04.19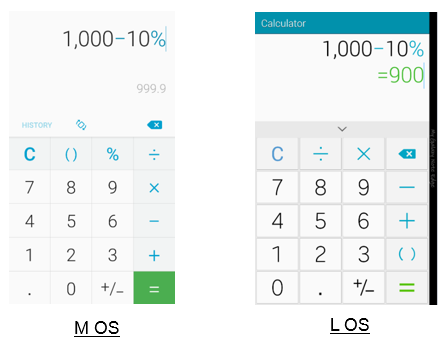 It's new concept that reflects the user's frequently used patterns.
However, to prevent confusion to users who had being used Samsung devices continuously
and to give consistency of calculation results in Samsung devices, Samsung decided to restore
calculation logic applied to Galaxy S7 to previous concept.
This concept will be restored with a Software update or Calculator update through Galaxy Apps
which will be available in the coming weeks. Therefore, please check for updates to your device
SW regularly via the Smart Switch PC or FOTA.
Samsung encourages users to keep your software and apps updated to latest version.
Related Model Information
SM-G930FZDAXSG, SM-G930FZDUXSG, SM-G930FZKAXSG, SM-G930FZKUXSG, SM-G930FZSAXSG, SM-G930FZSUXSG, SM-G930XZDAXSG, SM-G930XZKAXSG, SM-G930XZSAXSG, SM-G935FZDAXSG, SM-G935FZDUXSG, SM-G935FZKAXSG, SM-G935FZKUXSG, SM-G935FZSAXSG, SM-G935FZSUXSG, SM-G935XZDAXSG, SM-G935XZKAXSG, SM-G935XZSAXSG
Contents Satisfaction Survey