What to do when an image has shown as strange color
Last Update date :
2017.04.19

[Overview]
One of possible causes for abnormal Image color is wrong setting value for White Balance.
[Terms Description] White balance
• One of the most important elements for Digital Picture
• Color balance based on White Color Information


• Human eye can grasp the actual white information in any situation

• But camera can make the accurate color for any situation

Through a image sensor according to the Light Source.

• Correct color balance gives the expression of the "gradation"
the influence with the "feel of a material " as well as color.
[Solution]
Check the white balance setting in the menu.
1. Turn on the camera, then Click the "Menu" button.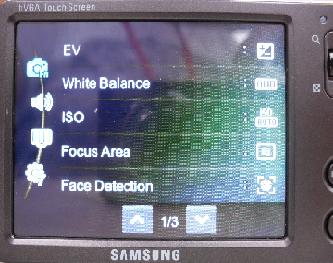 2. Go to "White Balance (=WB)" button.
• Usually, use the AWB (=Auto WB) as WB setting.

• WB control allows you to adjust the color to appear more natural. According to the light source, can select verity of WB values



• If WB setting is wrong, result image may has abnormal color.

< Original Color > < Abnormal Color >
• If the setting value is not fault, The camera requires repair service.
Contents Satisfaction Survey