When my device is low battery, the LED indicator is giving no warning. Is there a way to turn it on?
Last Update date :
2017.04.19
By default the setting to indicate the LED notifying the user his device is having almost drained battery is disabled.
To enable it, please go to Settings->LED Indicator. After that, please check Low battery option.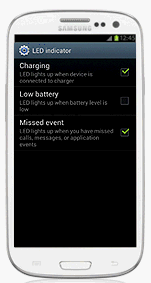 Related Model Information
GT-I9300MBAXSG
Contents Satisfaction Survey