What are the different buttons and physical features that comes with Galaxy S3?
Last Update date :
2017.04.19
DEVICE FRONT VIEW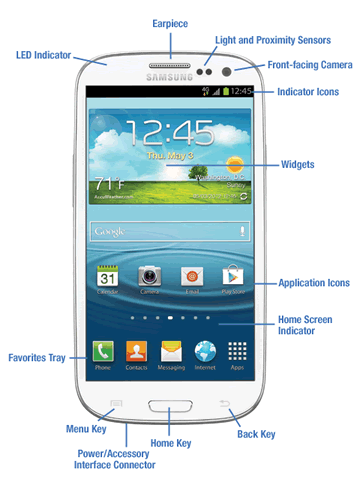 Light and Proximity Sensors: Use the ambient light level to adjust keypad access. If the light path is blocked — for example, when holding the phone close to your ear — the touchscreen will turn off. Also used for some Camera settings.
Front-facing Camera: Allows you to take pictures of yourself when you set the camera shooting mode to Self shot.
Indicator Icons: Show the information needed to operate your phone, such as the received signal strength, phone battery level, time, unread emails, missed calls, time, date, etc.
Widgets: Widgets can be added for various functions. Widgets provide quick access to information without opening an application first.
Application Icons: Allow shortcuts to your favorite applications on the Home screen.
Home Screen Indicator: Shows which Home screen is displayed.
Back Key: Allows you to step backward when navigating a menu or web page.
Home Key: Allows you to return to the main Home screen from any home screen or menu. Press and hold to display your recently used applications and a shortcut to the Task Manager. Press twice to open Samsung S Voice™.
Power/Accessory Interface Connector: Allows you to connect a Travel Charger or other optional accessories, such as a USB/data cable or a hands-free headset for convenient, hands-free conversations.
Menu Key: Allows access to sub-menus with additional options for different features and applications such as Home screen, Phone, Contacts, Messaging, and Web. Press and hold to open Google™ Search.
Favorites Tray: Allows quick access to important features such as Phone, Contacts, Messaging, Web, and Applications.
LED Indicator: Displays red when charging, green when fully charged, blue when powering up, and orange when you have a waiting notification
Earpiece: Allows you to hear the caller.
DEVICE SIDE VIEW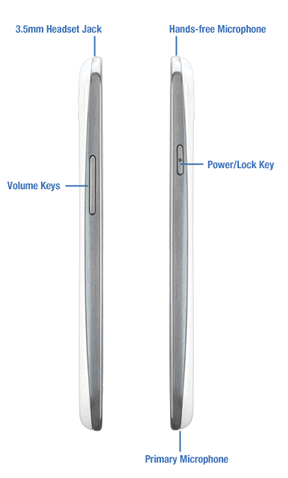 Hands-free Microphone: Allows other callers to hear you when you are speaking to them using your device's speakerphone function.
Power/Lock Key: Allows you to power your phone on and off. Also allows you to lock or unlock the touchscreen.
Primary Microphone: Allows other callers to hear you when you are speaking to them.
Volume Keys: Allow you to adjust the ringer volume while in standby mode or adjust the voice volume during a call. When receiving an incoming call, briefly press down either volume button to mute the ringtone.
3.5mm Headset Jack: Allows you to plug in headphones.
DEVICE REAR VIEW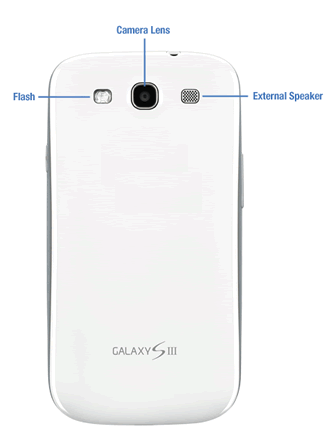 Camera Lens: Allows you to take pictures and shoot videos.
External Speaker: Allows you to hear when the speakerphone is turned on.
Flash: Used to provide adequate light when taking pictures in dark places.
Related Model Information
GT-I9300MBAXSG
Contents Satisfaction Survey