How can I delete an entry event on the S planner of the Galaxy Note?
Last Update date :
2017.04.19
To Delete an S Planner event on the Samsung Galaxy Note handset, follow the steps below:
a. From the standby (main or idle) screen select (tap) Applications.
b. Select S Planner.
c. Select the Menu key, to display menu option.
Then from the menu:
1. Select Delete.
2. Select event for deletion.
3. Select Delete once more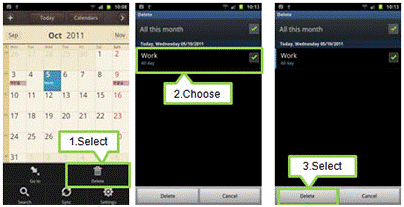 Related Model Information
GT-N7100RWAXSG
Contents Satisfaction Survey