How to send SMS to 4 digit numbers with Samsung phones before Marshmallow version ?
Last Update date :
2017.04.19
In Galaxy S4, you may not be able to send Premium SMS or shall we say,
it cannot send SMS to short numbered services like checking balance by SMS ,
replying to promotional SMS, or activation of Bank Cards,and many others.
(ex. 1233, 9947, 2626)
To fix the issue, please find the solution below.
Follow the path below:
Settings->More->Application Manager->All tab->Messaging
Scroll down and check under Permission->Send Premium SMS. You may find "Never Allow" as selected option. Tap on the box.
Don't choose "Never Allow". To send Premium SMS, select only "Ask" or "Always Allow"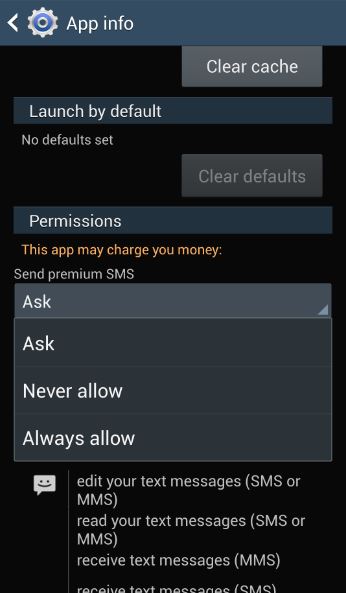 Note: This is applicable with Samsung Android devices running with Jellybean 4.2.2
What happens when using different options?
1. ASK - It will ask to confirm if you allow the device to send SMS to the premium numbers. If confirmed, it will send. If not, it will not send.
2. NEVER ALLOW: With this setting, the device will never send SMS to premium numbers unless setting is changed.
3. ALWAYS ALLOW: The device will always send SMS to premium numbers. There are premium numbers that charges and some does not charge like Balance Checking with the service provider.
* if this guide doesn't help you, you can follow the related link
Related Model Information
GT-I9300GRDXSG, GT-I9300MBAXSG, GT-I9300MBDXSG, GT-I9300MBEXSG, GT-I9300MBXXSG, GT-I9300OKDXSG, GT-I9300RWAXSG, GT-I9300RWDXSG, GT-I9300RWEXSG, GT-I9300RWXXSG, GT-I9300TADXSG, GT-I9300ZKAXSG, GT-I9300ZKDXSG, GT-I9300ZNDXSG, GT-I9500GNAXSG, GT-I9500HIAXSG, GT-I9500ZBAXSG, GT-I9500ZKAXSG, GT-I9500ZNAXSG, GT-I9500ZRAXSG, GT-I9500ZWAXSG, GT-I9505GNAXSI, GT-I9505GNAXST, GT-I9505GNAXSZ, GT-I9505HIAKSA, GT-I9505HIAXSI, GT-I9505HIAXSN, GT-I9505HIAXST, GT-I9505ZBAXSB, GT-I9505ZKAXSB, GT-I9505ZKAXSI, GT-I9505ZKAXSN, GT-I9505ZKAXST, GT-I9505ZNAXSI, GT-I9505ZPAXSI, GT-I9505ZWAXSI, GT-I9505ZWAXSN,
Contents Satisfaction Survey