In the Galaxy Note 3, although I set the "S Pen attach/detach sound" to OFF, the sound plays when detaching the S Pen. What could be the problem?
Last Update date :
2017.04.19
If you set the Pen detachment options to "Action memo" or "Air command" and not the "None" option,
a sound, when executing the Action memo or Air command, will play even if "S Pen detach sound" is set to OFF.
This can be misinterpreted as the "Pen detach" sound.
If you want to disable all sounds when detaching S Pen, detachment option is also set to "None"
option including Pen detach sound. Please refer the steps below:
1.
On the Home screen tap "Apps", then "Settings", then "Controls", then "S Pen"
2.
First select Pen detachment options – then select None. Then select Pen attach / detach sound and then select "Off", then "OK"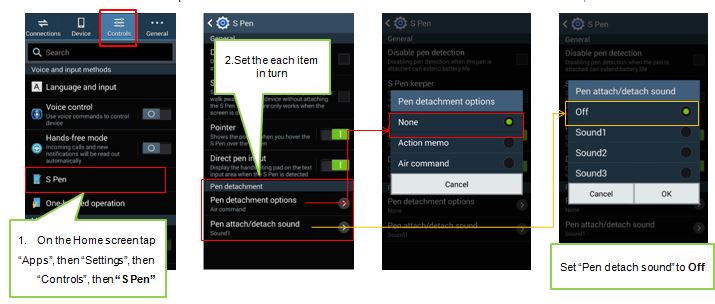 Related Model Information
SM-N9000ZIEXSG, SM-N9005ZKEXSI
Contents Satisfaction Survey