What should I check when closing the back cover of my Galaxy S5?
Last Update date :
2017.04.19
To ensure the back cover is closed, you have to consider the caution point when sealing the back cover.
Dust or sand may get into the sealing side of back cover or back of device, and may cause issues on the back cover and seal the device improperly.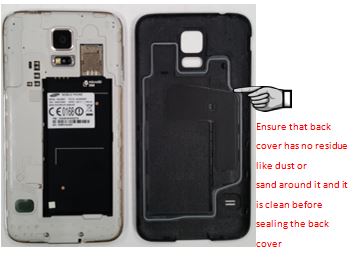 As a result, if your device is exposed to water in the status of the
back cover isn't tightly closed, water may get into device and
cause the damage.
So, first of all, before sealing the back cover, Ensure that back
cover hasn't residue like dust or sand and it is clean.
Otherwise, they may not provide protection from water and dust.
And later then, Align all the covers properly and Close tightly.
Related Model Information
SM-G900FZBAXSG, SM-G900FZDAXSG, SM-G900FZDEXSG, SM-G900FZKAXSG, SM-G900FZKEXSG, SM-G900FZWAXSG, SM-G900FZWEXSG
Contents Satisfaction Survey