What are the camera modes available in Galaxy Alpha's camera?
Last Update date :
2017.04.19
The Galaxy Alpha has 6 preloaded modes:
Beauty face take flawless portrait pictures using the airbrush effect.
This function may not work when it's too dark or when the subject is too
close to the camera.
Shot and more explore the various effects available for burst shots. Effects
can be applied right after taking your pictures or in Studio. The following effects
are available in Shot & more; Best photo, Best face, Eraser, Drama shot, Panning
shot.
Panorama take a photo composed of many photos strung together. Create a
linear panorama by taking pictures in either a horizontal or vertical direction.
To get the best shot, follow these tips.
– –Move the camera slowly in one direction.
– –Keep the camera's viewfinder within the guide frame.
– –Avoid taking photos of a subject in front of unrecognizable backgrounds, such
as empty skies or plain walls.
Virtual tour shot take photos of a space by moving the device and shooting from
different angles and apply a 3D-effect to them. Create interactive virtual tours of your
surroundings. To start taking a Virtual tour shot, place the target pointer in the centre of
the circle.
Dual Shot can take pictures and record videos using the front and rear cameras at the same time.
A variety of picture-in-picture styles are available.
The additional modes can be accessed via the Download mode through Samsung Apps.
1. When using the camera, tap "Mode" to access the Modes area.
The default will be the Auto Mode. Use this to allow the camera to evaluate the surroundings
and determine the ideal mode for the photo.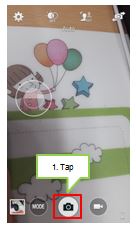 2. Scroll up or down to see the other available modes and tap the mode you want.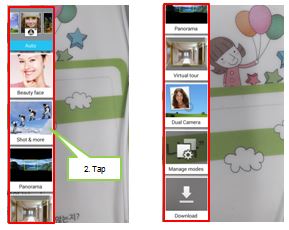 During shooting of all mode, Hold the device steady until it finishes taking the picture.
Related Model Information
SM-G850FZKEXSG, SM-G850FZWEXSG
Contents Satisfaction Survey