Cannot connect to internet issue on Bluray Home Theater
Last Update date :
2017.04.19
NOTE: This guide is applicable for HT-F**** series for Bluray Home Theater.
The problem happens when user wants to connect to the internet but an "error message" come up on screen like shown below: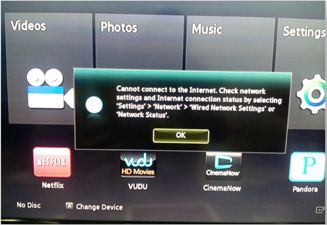 This is possibly cause of the LAN cable not being inserted properly on the TV in which the error appears as shown.
To solve the problem, plese check the connection of LAN cable to the TV. Hence, check the network status in two ways.
1. Go to Settings__>Network__>Network Test

2. Go to Menu__>Network__>Network Status
If the result shown is an error like above, there could be a wire connectivity issue.
Hence, if it is okay, then it will show in the screen as shown below.

Contents Satisfaction Survey