I would like to get the application that helps to use my GALAXY handset more easily. Is there the recommended application which is based on global customer FAQs and direction for use ?
Last Update date :
2017.04.19
If you have the difficulty in using the Galaxy Mobile, Samsung recommend the new application called:
Customer Care User's Digest
It is from Samsung Electronics for Galaxy Device. It is designed to work best with Galaxy S3, Galaxy S4, Galaxy Note 2, and Galaxy Note 8.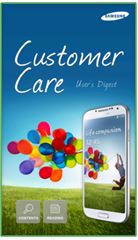 Customer Care app is based on global customer FAQs(Frequently Asked Questions), and this User's Digest helps
GALAXY users and sales points to learn GALAXY product usability and customer's needs.
You can download this Useful software from Google Playstore. Follow the steps below..
1. In your GALAXY mobile, select the Play Store.
2. Enter the customer care in search box.
3. Select the more button and Click the Customer Care – SAMSUNG GALAXY app.
4. Click the Install button.

After installation, launch Customer Care icon from Application list. You wll learn and be educate on different features of Galaxy with its text content and video.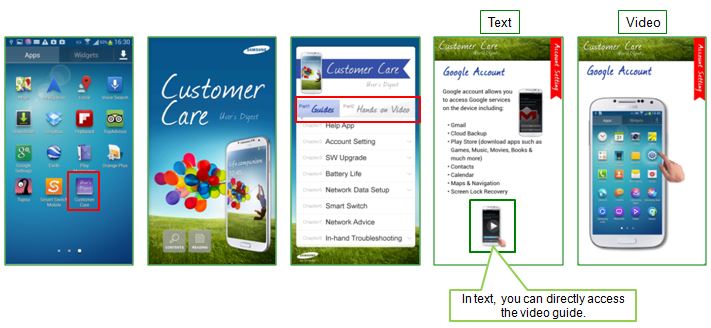 Related Model Information
GT-I9300GRDXSG, GT-I9500ZKAXSG, GT-I9505ZKAXSI, GT-I9505ZKAXST, GT-N7100ZRDXSG
Contents Satisfaction Survey