On my older device , it was possible to open all options on quick settings panel by dragging down the status bar using two fingers. But my S6 series device do not support this. What has happened?
Last Update date :
2017.04.19
On the Galaxy S6 series, the user interface has been simplified, and so
you cannot access open all options by dragging down on the status bar
using two fingers. However if you do drag down the status bar and
view the quick settings panel, if you sweep from left to right you
can view those item added to the quick settings panel.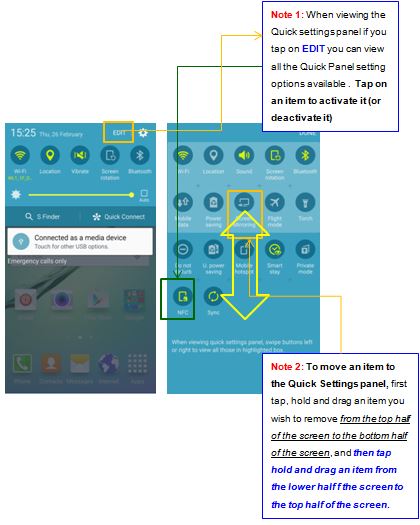 Related Model Information
SM-G920FZDAXSG, SM-G920FZDEXSG, SM-G920FZDUXSG, SM-G920FZDVXSG, SM-G920FZKAXSG, SM-G920FZKEXSG, SM-G920FZKUXSG, SM-G920FZKVXSG, SM-G920FZWAXSG, SM-G920FZWUXSG, SM-G920FZWVXSG, SM-G925FZDAXSG, SM-G925FZDFXSG, SM-G925FZGEXSG, SM-G925FZGFXSG, SM-G925FZKAXSG, SM-G925FZKEXSG, SM-G925FZKFXSG
Contents Satisfaction Survey