Galaxy S6/S6 EDGE - The device is unlocked automatically even if the device is already locked with either Pattern lock, PIN lock, Password, or Fingerprint lock. What is the cause of the issue?
Last Update date :
2017.04.19
If you locked your device but it seems to have "unlocked" itself please check
whether Smart Lock feature is enabled.
Smart Lock feature supports the unlocking of your mobile device (without you
needed to unlock the device using the screen lock type you activated) when
trusted locations or other devices which have been registered in advance have
been detected.
(*Smart Lock is new feature implemented by Google since Android OS 5.0 Lollipop)
In other words, via Smart Lock feature if you register trusted devices such as a
Bluetooth watch, your car's Bluetooth system, an NFC sticker on the phone dock in
your car, the Galaxy S6 will go to unlocked state when connected to trusted device.
(Note : this will mean your device will be unlocked while it is in range of the Bluetooth
signal of the device)
Similarly, you can add trusted locations through Google Maps and device will keep
unlocked state within the locations.
At that time, your Galaxy S6 is unlocked without using a screen lock type except just
dragging the screen.
You are able to enable Smart lock after setting one of the Lock methods such as
PIN, Pattern, Password or Fingerprints lock type. Please refer to screenshots below.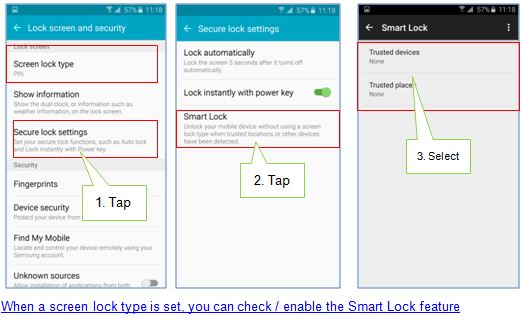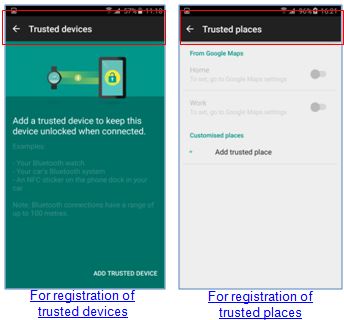 Related Model Information
SM-G920FZBAXSG, SM-G920FZBEXSG, SM-G920FZBUXSG, SM-G920FZDAXSG, SM-G920FZDUXSG, SM-G920FZDVXSG, SM-G920FZKAXSG, SM-G920FZKEXSG, SM-G920FZKUXSG, SM-G920FZKVXSG, SM-G920FZWAXSG, SM-G920FZWEXSG, SM-G920FZWUXSG, SM-G920FZWVXSG, SM-G925FZDAXSG, SM-G925FZDEXSG, SM-G925FZDFXSG, SM-G925FZGAXSG, SM-G925FZGEXSG, SM-G925FZGFXSG, SM-G925FZKAXSG, SM-G925FZKEXSG, SM-G925FZKFXSG, SM-G925FZWAXSG
Contents Satisfaction Survey