Galaxy S7 Flat/Edge - Its complex and inconvenience that steps for lock screen are increased compared to previous devices. Why is this ?
Last Update date :
2017.04.19
For enhanced device security, to set screen lock type to Fingerprint, PIN, Pattern or Password must be set first.
And, after PIN, Pattern or Password lock setting, step for fingerprint setting is added.
This is Google"s new concept to reinforce the device security and it"s common concept for devices based on Android OS 6.0.
Accordingly, you can unlock your device with PIN, Pattern or Password which you set even if you set your lock screen as Fingerprint.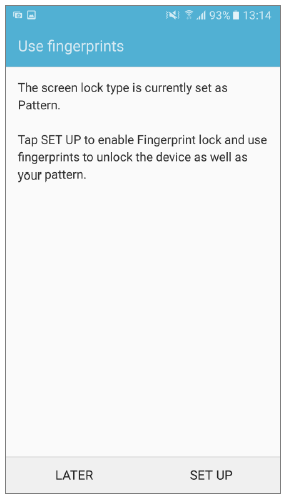 Related Model Information
SM-N920CEDAXSG, SM-N920CEDEXSG, SM-N920CZDAXSG, SM-N920CZDEXSG, SM-N920CZKAXSG, SM-N920CZKEXSG, SM-N920CZSAXSG, SM-N920CZSEXSG, SM-N920CZWAXSG, SM-N920CZWEXSG
Contents Satisfaction Survey