What is Portable Wi-Fi® Hotspot, and how do I use it on my Galaxy Tab® 2 (7.0)?
Last Update date :
2017.04.19
The Mobile Hotspot feature allows you to share your mobile device's data connection with other devices by turning your device into a wireless access point. You can connect up to five wireless devices via Wi-Fi.
Warning: Using your mobile device as a mobile access point is data-intensive and will dramatically reduce battery life. It is recommended that you contact your wireless carrier and ask questions about availability with your current plan. It is also recommended that you keep the device plugged in while the hotspot feature is turned on.
How to Enable the Mobile Hotspot?
Open the Notification Pane by touching the clock in the lower-right corner, and touch Settings > More Settings->Tethering and portable hotspot.
Touch the slider next to Portable Wifi Hotspot to turn the feature on.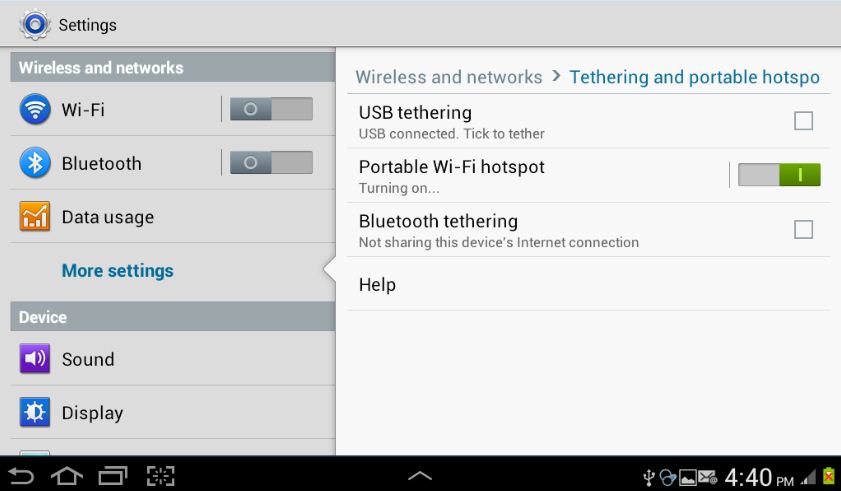 If you are currently connected to a Wi-Fi access point, you will be disconnected from the access point before you can use the portable Wi-Fi hotspot feature. Touch OK on the Attention screen if you see it.

How to Configure the Mobile Hotspot?
1. You can use the preconfigured settings or touch Configure to adjust the settings. You may also limit the devices that can connect to your portable Wi-Fi hotspot by touching Allowed device list.
2. When configuring the feature, enter or edit the Network SSID, select the Security feature, enter or edit the Password (if required), select Broadcast network name (SSID) to make your network visible or invisible, and touch Save. Check Show Advance options to change the Broadcast channel.
3. Touch Menu
> Timeout settings to adjust when to disable the Mobile Hotspot if there is no connection.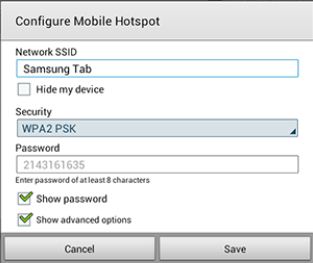 Once set, you will be able to find on another device the Wifi Hotspot you set on your Galaxy Tab 2. For example above, the SSID is Samsung Tab, so the other device should see Samsung Tab too when they search for wifi hotspot.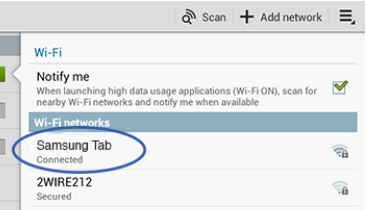 Related Model Information
GT-P3100TSAXSG
Contents Satisfaction Survey