What is Download Mode feature in Galaxy Tab S and how to set it up?
Last Update date :
2017.04.19
Using Download booster feature of Galaxy Tab S, you can download large files faster.
The feature download large files faster by using your Wi-Fi and mobile network data
connection at the same time.
This may result in additional charges according to your payment plan.
2.
Tap
"Connections
", then tap "
Download booster"
and drag the activation switch to the right.
The Download booster icon will be shown on the notification panel when Download booster
is being used.

3. You can select whether to display notification pop-ups for Download booster speed.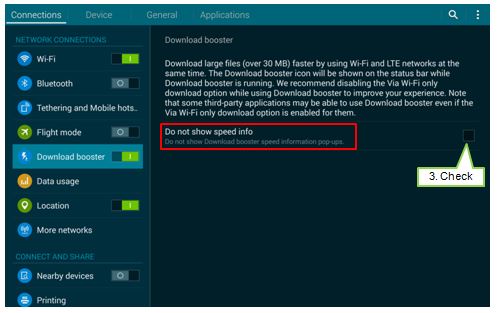 Related Model Information
SM-T805NTSAXSG, SM-T805NZWAXSG
Contents Satisfaction Survey