Although memory storage of my Galaxy S4 is 16GB(32GB) according to specification, real available memory space is displayed as much smaller space. What's the problem?
Last Update date :
2017.04.19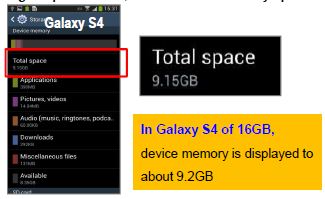 All smartphones require a certain amount of system memory to manage data communications and booting speed efficiently, and to provide more advanced features and services. Samsung Galaxy S4 reserves space for further software upgrades to provide added-values to customers and to enhance communication capability – operating the
LTE/3G modem, enhancing Wi-Fi connectivity
,
etc.
Memory space is also required for preloaded applications that provide the Galaxy S4 customers with an
advanced mobile
experience, including 9 sensors, innovative gesture recognition features, a variety of camera related features and more intuitive
usability.
Galaxy S4 features
the world's first Full HD Super AMOLED high resolution
display and a portion of the memory is
dedicated to providing users with this
vivid viewing experience
.
The latest software updates, Samsung's Premium Suite updates,
and OS updates
require pre-reserved memory as well, in order to continue to provide added value for GALAXY S4 owners
throughout the device's whole lifespan. In addition, a portion of the memory is allocated
to running the operating system
on an
optimal level. Samsung respect customers' desire to use more memory space for their own selected applications and content.
At the same time, Samsung will continue to make our best effort to optimize the software features in order to secure more memory space for users.
Available
Related Model Information
GT-I9505GNAXSI, GT-I9505GNAXST, GT-I9505HIAXSB, GT-I9505HIAXSI, GT-I9505HIAXSN, GT-I9505HIAXST, GT-I9505ZBAXSB, GT-I9505ZKAXSI, GT-I9505ZKAXSN, GT-I9505ZKAXST, GT-I9505ZKAXSZ, GT-I9505ZNAXSI, GT-I9505ZPAXSB, GT-I9505ZPAXSI, GT-I9505ZRAXSB, GT-I9505ZWAXSB, GT-I9505ZWAXSI, GT-I9505ZWAXSN, GT-I9505ZWAXST, GT-I9505ZWAXSZ
Contents Satisfaction Survey