The camera's flash is not working. What must be done?
Last Update date :
2017.04.19
Usually, The flash fires when the subject or background is dark.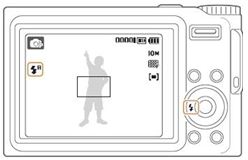 Take note of some points to check if the flash is not working.
•
If Flash does not work where need sufficient light amount, Change the Flash condition as "Fill-In", and check it again.
•
Terms Description : Fill-In
→ The flash always fires.
→ Light intensity is adjusted automatically.
•
How to Change the flash condition as "Fill-In"
→ Turn On the Camera.
→ Click the "Flash" button repeatedly in Shooting Mode
•
Then you can select "Fill-In".
•
Even the Flash condition has changed as Fill-In and Flash does not fire, the Camera
requires status checking by Service center.
Related Model Information
SAMSUNG ST150F
Contents Satisfaction Survey