When enabling the Ultra power saving mode on Galaxy S5, Estimated max. standby time is displayed. What is this?
Last Update date :
2017.04.19
The maximum standby time shows the approximated amount of time remaining while
the device is not being used before the battery power runs out.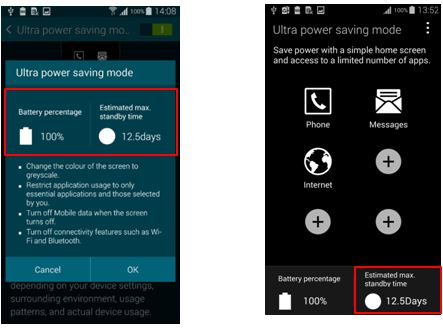 Note: This time may vary depending on your device settings, surrounding environment,
usage patterns, and actual device usage.
Related Model Information
SM-G900FZBAXSG, SM-G900FZDAXSG, SM-G900FZDEXSG, SM-G900FZKAXSG, SM-G900FZKEXSG, SM-G900FZWAXSG, SM-G900FZWEXSG
Contents Satisfaction Survey