Galaxy S6/S6 EDGE : The front facing camera lens appears to be placed slightly off center and it also appears to move when the device is upside down. Is it faulty?
Last Update date :
2017.04.19
Your device is not faulty.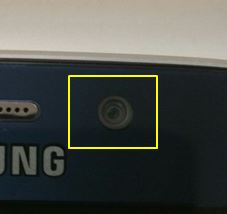 The Galaxy S6 series front facing camera supports "OIS" (Optical Image Stabilizer)
feature to minimize shaking when shooting pictures, previewing, recording video, and
the exposure time automatically adjusts to take sharp pictures in a dark environment.
For this feature, Galaxy S6 series front facing camera has been designed to enable the
Lens unit to move up and down.
However when the OIS feature is deactivated e.g. while camera is turned off the camera
lens may appear to have located itself slightly off centre after the camera has been used.
But, if you activate the camera, OIS feature will also work and camera lens will locate on
center.
Related Model Information
SM-G920FZBAXSG, SM-G920FZBEXSG, SM-G920FZBUXSG, SM-G920FZDAXSG, SM-G920FZDEXSG, SM-G920FZDUXSG, SM-G920FZDVXSG, SM-G920FZKAXSG, SM-G920FZKEXSG, SM-G920FZKUXSG, SM-G920FZKVXSG, SM-G920FZWAXSG, SM-G920FZWUXSG, SM-G925FZDAXSG, SM-G925FZKAXSG, SM-G925FZKEXSG, SM-G925FZKFXSG, SM-G925FZWAXSG
Contents Satisfaction Survey