How much free space is allowed when setting up the side by side refrigerator in an area?
Last Update date :
2017.04.19
For the free standing side by side refrigerator, you should leave a minimum distand of 50mm of free space around each side and at the back. For the top of the refrigerator, you can leave at least 25mm of free space.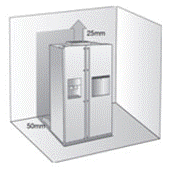 Important: If the refrigerator is stored to a narrow space, the cool air required to place the warem air expelled by the condenser will be hard to reach and this will cause hot air to build up causing the compressor to work harder.
It will then eventually cause poor cooling and premature failure on the the refrigerator especially on the compressor. As it could possibly cause problem on the compressor, it will then create noise.
Note: Follow the guidelines below to prolong the life of the refrigerator.
1. Do not place in direct sunlight: This can result in discoloration of the refrigerator's surface.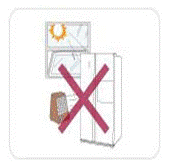 2. Do not place in locations where the temperature or humidity is high. The refrigerator will not cool down properly if the temperature is too high. Also frost or dew may form as a result of too high humidity. Both conditions will affect the life and performance of the product.
3. Do not place in an uneven floor surface. This may cause the fridge doors to open unevenly and may also result the refrigerator to generate undesirable noise.
4. Do not place in a location where it is difficult to connect to a water pipe (for water or ice dispenser-type models). This may result the water connection to the fridge unit to not function properly.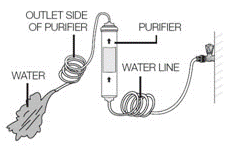 Contents Satisfaction Survey