When I open internet browser in the Galaxy S4, the brightness seemed to be dim or darker. What is the problem?
Last Update date :
2017.04.19
This could happen when the Auto Adjust Screen tone is set.
This setting will adjust automatically to save power according to analysis of the images displayed on the screen.
To disable this function, follow the steps below:
1. Select Settings
2. Select Display in My Device.
3. Scroll down to Auto Adjust Screen Tone and then untick the function.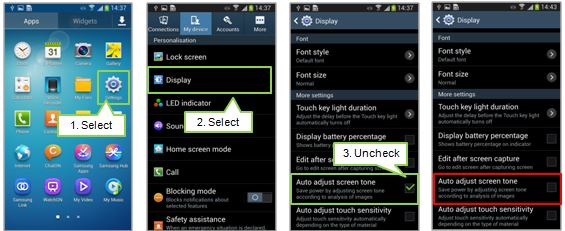 Related Model Information
GT-I9500ZBAXSG, GT-I9505ZWAXSI, GT-I9505ZWAXST
Contents Satisfaction Survey