What is Evernote application available with Galaxy Note 3?
Last Update date :
2017.04.19
Evernote is an easy-to-use app that helps you remember everything across all of the devices you use.
Evernote lets you take notes, capture photos, create to-do lists, record voice reminders-and makes these notes completely searchable, whether you are at home, at work, or on the go. Put everything in one place-your notes, images, documents, web clips and audio notes. Find what you're looking for using our powerfuls search. Sync makes your notes accessible across your devices.
1. Select Galaxy Plus
2. Select Evernote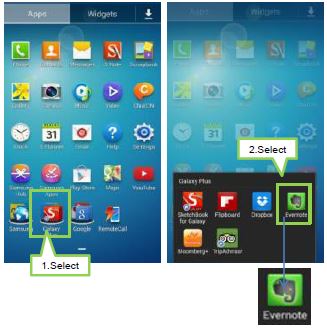 Evernote supports each version for Mobile , Desktop , Web.
If user sync their notes via a Evernote account, they can access notes across all of the devices they use.

Related Model Information
SM-N9000ZWEXSG, SM-N9005ZKEXSI
Contents Satisfaction Survey