Samsung Gear 360 - Layout & Main Features
Last Update date :
2017.04.19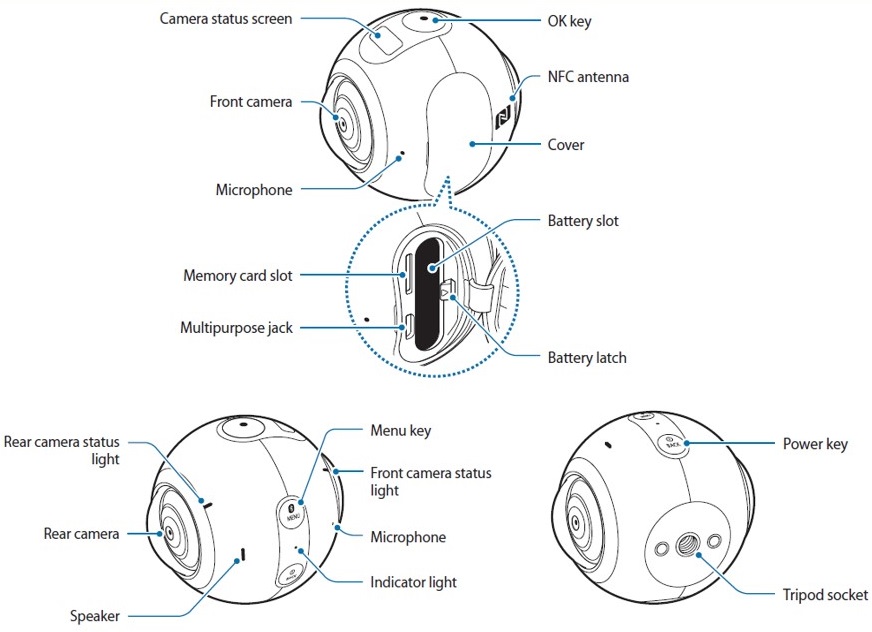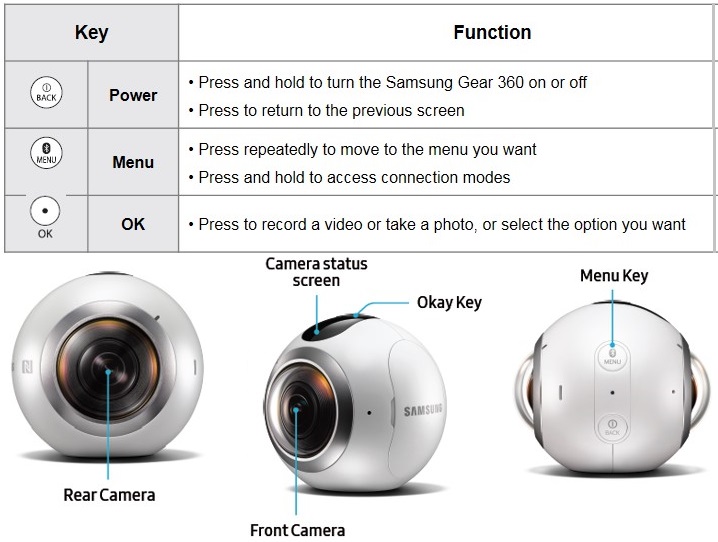 With Samsung Gear 360, you can create your own VR contents.
You can take rich and vivid 360 degree pictures and videos and enjoy them on your Gear VR
to put you and others into the scene itself. Moreover, you can easily connect Gear 360
to smartphone or PC, and then edit, save, share 360 contents with a more polished look.
The Gear 360 is dust and splash resistant and comes with an all-in-one tripod which makes it
a perfect companion for causal activity.
•The Gear 360 captures vivid scenery from all point of view, without missing any spots.
- Rich and vivid 360 pictures and videos
- Dual 15MP CMOS* (Lens F2.0) *Default output pixel count equivalent to 25.9MP
- MicroSD up to 200GB

- Two lenses with a 180° Field Of View create perfect 360° images and videos
- Create your own 360° content
- Share it with friends and family
•
Gear 360 defeats the shadows. F2.0 lens take bright and vivid pictures and videos
and every single experience is recorded in Max.3840x1920 high resolution video
and 30MP photos. Combined with an external memory card, user do not have to worry

F2.0 lens on the front and back of the camera absorb more light in difficult,
even low-light conditions
Gear 360 creates pictures/videos using a diverse combination of modes for different
shooting conditions
- Photo : 180°(up to 5MP, 3072x1728) or 360°(up to 30MP, 7776x3888)
- Video : 180°(up to 2560x1440) or 360°(up to Sub-UHD, 3840x1920)
- Time lapse video : Create single video files from interval-captured still images for slow
event like capturing sunsets
- Looping video : Save and delete video files over a set time, useful for repetitive activities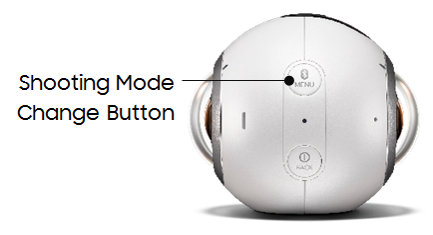 Related Model Information
SM-G920FZBAXSG, SM-G920FZBEXSG, SM-G920FZDAXSG, SM-G920FZDEXSG, SM-G920FZKAXSG, SM-G920FZKEXSG, SM-G920FZWAXSG, SM-G920FZWEXSG, SM-G925FZDAXSG, SM-G925FZDEXSG, SM-G925FZDFXSG, SM-G925FZGAXSG, SM-G925FZGEXSG, SM-G925FZGFXSG, SM-G925FZKAXSG, SM-G925FZKEXSG, SM-G925FZKFXSG, SM-G925FZWAXSG, SM-G925FZWEXSG, SM-G925FZWFXSG, SM-G928CZDAXSG, SM-G928CZDEXSG, SM-G928CZKAXSG, SM-G928CZKEXSG, SM-G928CZSAXSG, SM-G928CZSEXSG, SM-G928CZWAXSG, SM-G928CZWEXSG, SM-G930FEDAXSG, SM-G930FZDAXSG, SM-G930FZKAXSG, SM-G930FZSAXSG, SM-G935FZDAXSG, SM-G935FZKAXSG, SM-G935FZSAXSG, SM-N920CEDAXSG, SM-N920CEDEXSG, SM-N920CZDAXSG, SM-N920CZDEXSG, SM-N920CZKAXSG, SM-N920CZKEXSG, SM-N920CZSAXSG, SM-N920CZSEXSG, SM-N920CZWAXSG, SM-N920CZWEXSG,
Contents Satisfaction Survey