Twin Cooling Plus™
Water Dispenser
Auto Ice Maker
Bulky Items? No Problem!
Need to store an extra large cake or a bulky turkey for a party? You can store big, bulky items in the refrigerator and serve them at your convenience.
Auto Moisture Drawer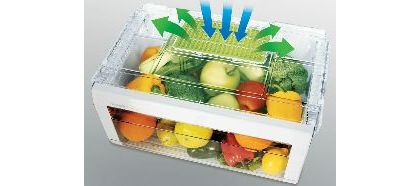 Self-controlled crisper helps keep your greens at the optimal humidity level.
Big Boxes

Large boxes for ample storage space.
Multi Flow
Cool air flows out through multiple outlets at every shelf level.
ClearView Icemaker
This space-efficient icemaker in the freezer door is see-through for an easy view of ice stored.
Spill resistant Tempered glass
The shelves are designed to help contain spills and allow for an easy clean up.
LED Tower Lighting
The lighting is space efficient, semi-permanent, and has minimal heat emissions.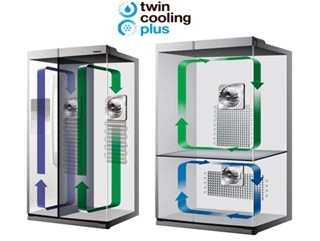 Twin Cooling Plus™
Keep your food fresh for a long time with the Twin Cooling Plus™ system. Two separate coolers maintain freezer and refrigerator conditions independently; the cool air does not travel across the freezer and refrigerator compartments. Therefore there is no unpleasant mixing of odours. The Twin Cooling Plus™ system also helps to ensure your food lasts for a long time by helping to maintain the foods natural moisture.
More Space Inside, Same Space Outside *
Through clever use of Samsung's thin insulation technology and a door mounted ice maker to allow freezer storage space, the G-series is the same size as a starded Samsung side by side refrigerator with the same external dimensions but without space technology, but has more space inside to cater for your family's needs. If you entertain often, you may need lots of space to store lots of food. It's also normally efficient to stock up on groceries in one big trip rather than having to go shopping for groceries often. In that case, you may need a refrigerator that gives you ample storage space, but does not sacrifice on style. The Samsung G-Series refrigerator gives you plentiful space and still maintains built-in refrigerator dimensions so you can have both. * Compared to Samsung side by side refrigerators with the same external dimensions but wihout space technology.
690 ℓ

Net Total

912  

Net Width(mm)

1,780  

Net Case Height with Hinge(mm)

737  

Net Depth with Door Handle(mm)

125  

Net Weight(kg)

Twin Cooling Plus

Cooling Type
User manual & Downloads
Live Chat
* Key feature may different from Key Spec