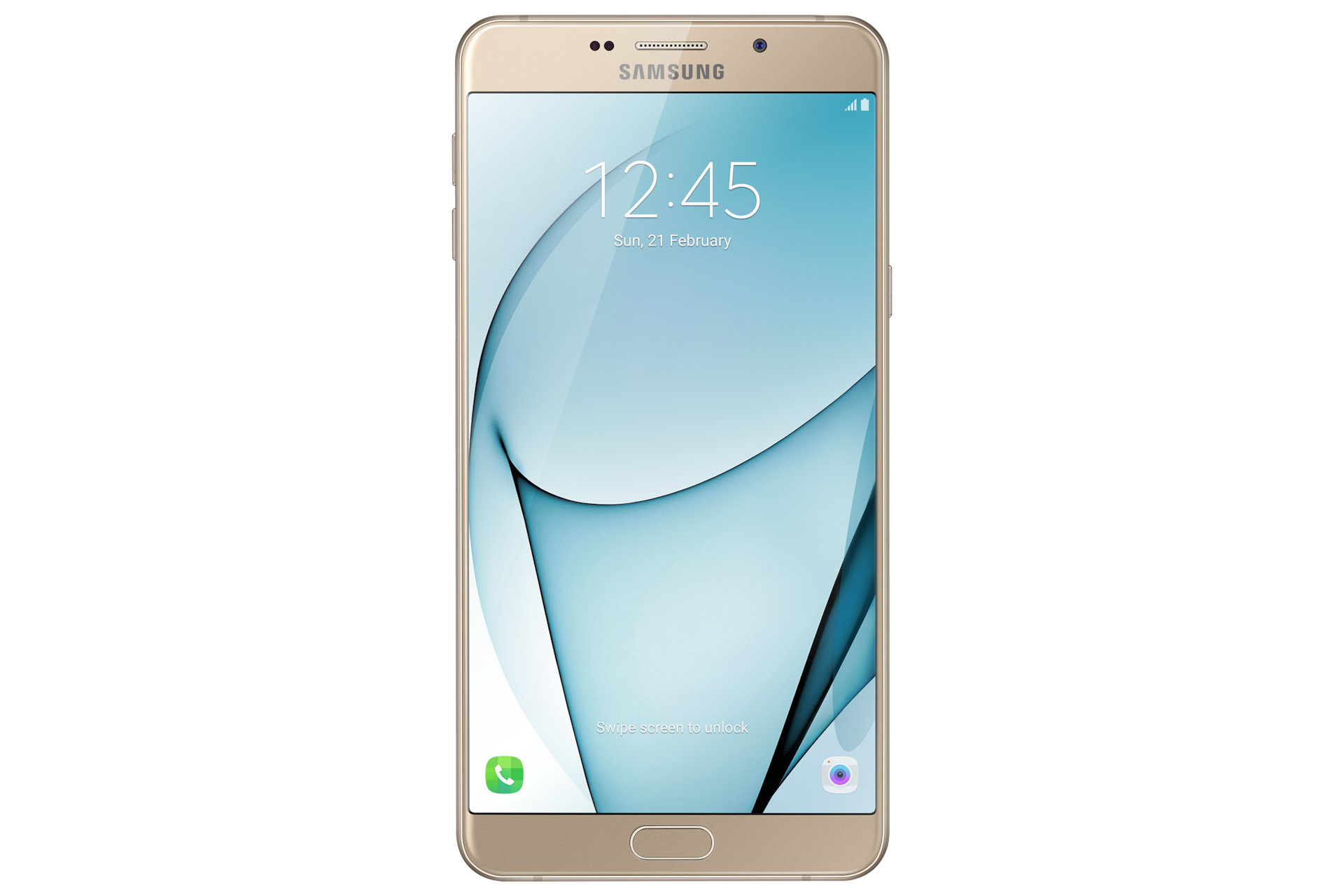 SM-A910FZDDXTC
Galaxy A9 Pro (2016)
Bigger and bolder
Simplify your spending
Recharge even faster
Price indicated may change without notice.
HD Video Recording
HD Display
Bigger and bolder
Larger and wider to reveal every detail. Its beautifully refined metal and glass design features a 6.0" Super AMOLED display that delivers the ultimate in viewing pleasure for all your gaming and multimedia needs.
Relive every detail
Shooting like a pro just became second nature. Boasting a 16MP rear camera and faster F1.9 lens with Optimal Image Stabilisation you get bright, blur-free photos even in low light situations.
Control and capture at will
Its Wide Selfie function together with its 8MP front camera lets you fit more people in group shots and capture beautiful scenery as it was meant to be seen. You can even use your palm to take photos with ease.
Simplify your spending
The easier way to pay. With various payment options, including NFC and MST, Samsung Pay allows you to make purchases swiftly and securely whenever you're on the go.
*The availability of this service may vary by country.
Geared up for fun
Powered to perform even better. Its Octa Core Processor and LTE Category 6 network access allow for seamless multi-tasking and faster webpage loading. Optional micro SD card support grants you even more storage.
*The availability of this service may vary by country.
*The availability of this service may vary by country.
Recharge even faster
Now you can fully charge your device in 160mins so you spend far less time waiting around when you need it most. And because it retains power even better you can enjoy all your favourite multimedia and gaming for much longer.
*Charging speeds may vary slightly according to usage.
*Charging speeds may vary slightly according to usage.
*Usable memory size is less than the total memory size due to storage of the operating system and software required to operate the phones' features. Actual usable memory size will also vary depending on the mobile phone operator and may change after software upgrades are performed
User manual & Downloads
Live Chat
How It Stacks Up
Product Information stated herein is meant as a guide for the consumer and may not be accurate at all times. Features, specifications, design, color, and price may be changed without prior notice to the public.


Features and specifications indicated have been verified as accurate at the time when the product was introduced to the market. However, these features and specifications may be updated, modified, or removed as required by local conditions. Such changes may be effected without prior notice to the public.


Certain features may require the collection and use of personal information, and the consumer must explicitly consent to such collection and use of information for said features to function.


Images depicted herein are only meant as an illustrative guide for the consumer regarding the design and use of the product. The actual appearance of the product, in terms of design and color may be different depending on variants available in the local market. Product design and color may also be updated and modified without prior notice to the public.

* The network capacity and data transfer speed may be reduced while dual SIM cards are used at the same time.
* Indicated colors refer only to those available in the local market.
* Dimension: Size and weight may vary by the device's configuration and manufacturing process.
* The bandwidths supported by the device may vary depending on the region or service provider.